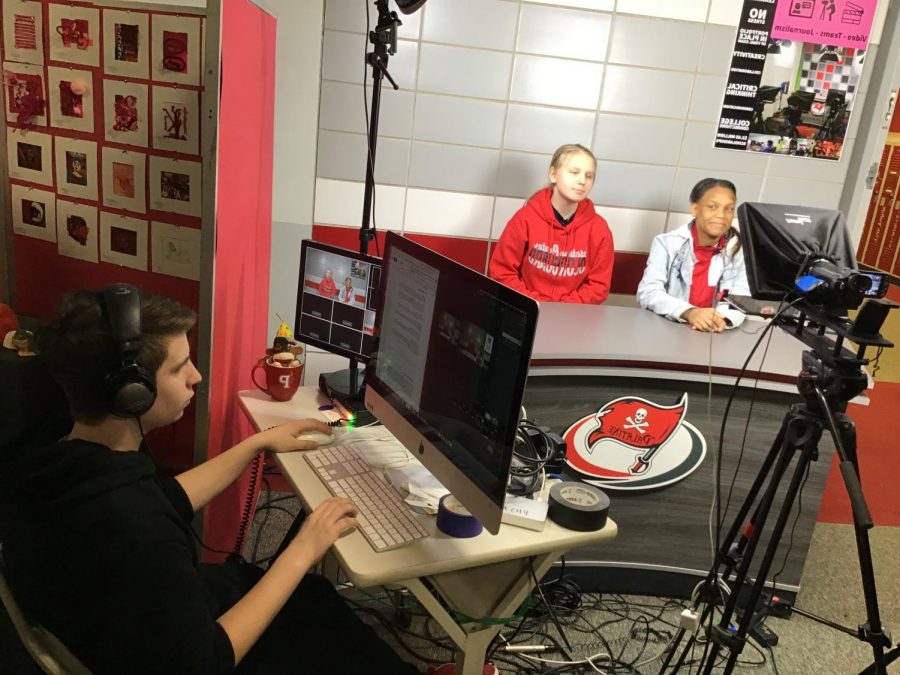 Russ Horvath
With all of the changes happening in 2020, students hoped that school starting would bring some form of normalcy back into their lives. However, with the announcement of online learning students were disappointed that they wouldn't be able to see their friends in person, but instead through a computer screen. 
One being PTV, the broadcasting news station at Palatine High School. PTV requires students to be news anchors, camera crew, and everything in between. Students chose to join this class because of its fun and energetic atmosphere, as well as getting the chance to be involved with the behind the scenes.
"I got a tour in eighth grade," freshman Christian Courtney said. "I thought it seemed like a fun class." Other than it being a fun class, some students were interested in the class because it was a potential career option.
"I joined PTV because I wanted to be a sports broadcaster and PTV would give me a chance to experience what it felt like," freshman Luke Jordan said. However, online learning has made that aspect difficult due to the lack of communication and human contact. 
While most of broadcasting is done in person, there are still different aspects of the class that can be taught to the students in Russ Horvath's class. One of those being the basics. Where to sit in the frame of a camera was a very important thing that needed to be taught. With most everything being online people needed the record themselves answering a base set of questions. Knowing where to place the camera and where to angle your body will come in handy now in this time of the unknown and their reporting future.
Some students are also editing certain videos and interviews so that it is condensed but still makes sense. That would include the music that is heard during the broadcasting, the videos themselves, and the pictures that show up on screen to direct the audience as to what the news anchors are talking about. Jordan said that he is editing a lot in this class to bring visuals to the story. 
The students who participate in PTV continue to stay resilient and make the class they chose to participate in as productive and entertaining as possible, while also adapting to the lack of personal interaction due to Covid-19. As schools start to reopen and introduce new hybrid learning plans, students look forward to learning more about broadcasting and editing the way it's normally taught.
PTV plans to publish segments every Monday starting Oct. 5.