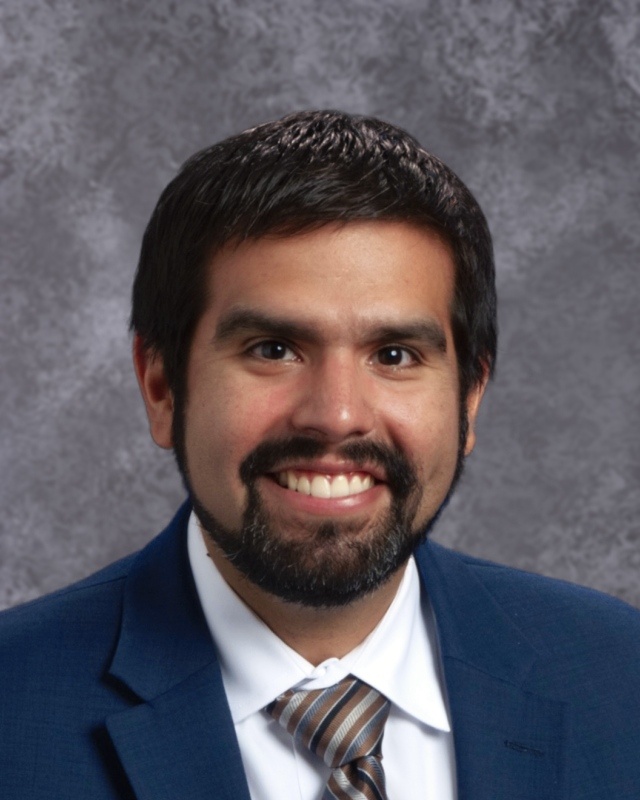 Courtesy of PHS Spotlight
The painted doors to the Palatine High school music department are hidden away to the side of the school entrance where bustling students enter and leave school. Behind those painted doors, students run around with instruments to play in the band classroom. The band director that instructs these students is Carlos Esquivel.
"Growing up, [music] was an outlet," Esquivel said. "It's where I learned a lot about working with others, teamwork, how important it is to come prepared for things, when to step into a role, when to be a follower in a band."
Esquivel grew up with music in his home. His father played music with his band as a hobby away from his day job. At the age of five, Esquivel's father signed him up for piano lessons at the park district, which influenced his love for music.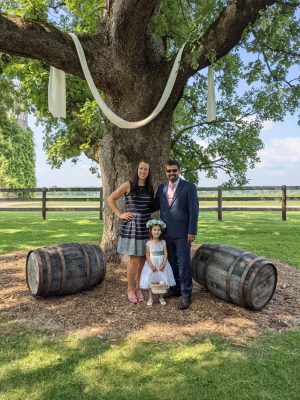 "I guess early on, you don't think of it as a passion," Esquivel said. "Looking back, this is something I'm obviously passionate about and something I love doing."
Esquivel started playing in band starting from the seventh grade with the clarinet, eventually transitioning to the saxophone. Since then, he has played the alto saxophone in multiple bands through high school, at the University of Illinois at Urbana-Champaign, and now during his adult life. Many of the skills he has learned from band have transitioned over to his students.
"Mr.Esquivel has been positive and supportive, but still being firm and down to business when it's called for," Matthew Sloan, a junior in band, said. "This has allowed me to have optimism regarding my abilities in band and has pushed me to be a better musician."

Esquivel's favorite moments from playing the saxophone were when he was still at U of I during football games when the marching band strolled onto the field to start their pregame ritual.
"When you look up and you see the sea of blue and orange…and then you hit this big power chord," Esquivel said. "That was one of my most amazing music moments because it's a culmination of hours of practicing.
Esquivel has been teaching at PHS as the band director since 2013. He has worked at many schools in the Chicago suburbs, but Palatine is where he has stayed longest.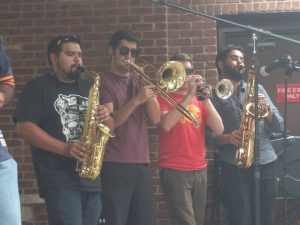 "There's depth to this school," Esquivel said. "It's a special place to be. It's not cookie cutter, we have our imperfections just like everyone else. Our classroom is not immune to that, but we like the traditions here."
Esquivel works with all levels of the PHS band program: Concert Band, Symphonic Band, and Wind Symphony. The three bands work together during basketball season to play as the basketball band on the stands of the school gym. During the summer and fall, Esquivel helps lead the Symphonic and Wind Symphony bands through band camp and marching band. Through the whole year he helps instruct the jazz bands. 
"I'm constantly learning ways to approach musical issues because trying to get that same goal with [the] bands is completely different, but we all want a great performance," Esquivel said.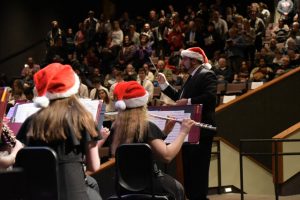 A student in many of the bands offered at PHS, senior Sarah Holderman has been influenced by the program so much that she plans on expanding her musicality by becoming a  music teacher in her future. Like Esquivel, Holderman has learned many life skills in band and has found some of her greatest friends within the program.
"I have stayed in the band because at the end of the day I love music more than anything and the space that the teachers have created," Holderman said. "The band program has always been an inclusive and encouraging environment that Mr.Esquivel has made and has changed many students' lives, including my own."
As musicians have to leave the band program at PHS to continue onto other adventures, Esquivel leaves them with advice he has given himself through his years of playing. 
"I think as musicians we know the outcome is always worth it," Esquivel said. "Being able to do that with other people to get to that point as a team is always so worthwhile."