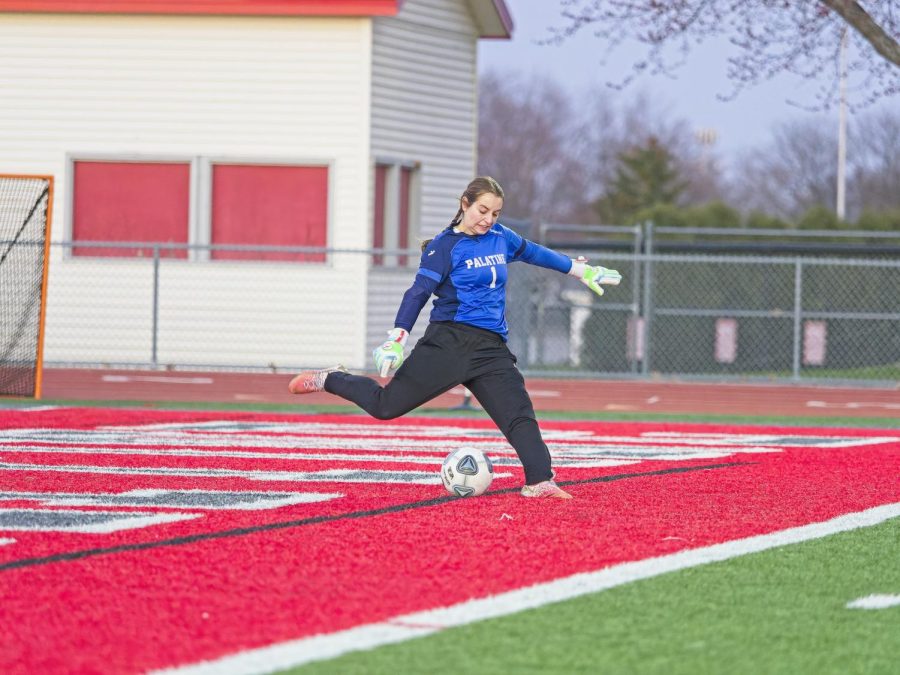 Used with permission from Jason Klein
The Pirates lost 2-0  in their away game against Fremd High School in their dispute for the Kinsella Cup.
"We should've come out a little harder and more aggressive to start because it definitely cost us," Palatine High School Junior Paige Millstone said. "But I'm happy with, you know, in the second half how we played and how we kind of switched it up. I mean, we didn't get many shots, but we for sure worked harder and our work ethic showed more".
The cold Tuesday night of April 19, the Pirates and the Vikings disputed the 27th annual Kinsella Cup at Hildebrandt Field. 
First half of the game was contained by the Vikings who started creating opportunities coming from the sides. The Pirates were holding on to their defense, until a mistake in the area that the Vikings took advantage of in a close-range header after a save from Pirates Keeper. A few minutes later, the Vikings doubled their score by a advantage after a great ball coming from the left side of the field that the Vikings finished off on the back of the net. 
Pirates and Vikings disputed the second half with character and personality, both sides were putting the effort in the field trying to score the goal that could knock down the game or fuel the Pirate's hopes. 
"I think first we need to work on marking, and it all starts with in the middle, getting to the ball first," Millstone said. "And that's what Coach Fillion said we have to work on and I agree and we all know so that's what we're gonna just work on and training more and hopefully, in future games, we do better at that."
The final whistle concluded the game with Vikings retaining the Kinsella Cup over the Pirates despite an outstanding performance by Millstone, alongside with Allie Henning and Angelina Lopez.