Illinois Governor issues "Shelter-in-Place" order
UPDATE April 2, 2020 Governor Pritzker announced all residents of Illinois are to stay home until April 30. Information regarding when the order will end is unclear and will be announced at the end of April. Press conferences are held daily , interrupting schedules programs on all television channels in Illinois.
As the count of COVID19 cases rises globally, the U.S implements changes to keep citizens safe. At the same time, states are making changes of their own to make sure cases of the virus are decreased and contained. Large states like New York and California have plans already in action. Illinois has now joined with this group.
"
Students in Illinois are to stay home until April 8."
On Friday, March 20 at 3 p.m. in the city of Chicago, all T.V programs in Illinois were interrupted for a breaking news announcement. At this moment, Illinois governor JB Pritzker issues a "Shelter-in-Place" order to all citizens in the state. This order will be in effect on Saturday, March 21, at 5 p.m. It will be in effect until April 7.
"I'm not going to tell you I know that the end of April 7 is the end date," Pritzker said. "I believe that gives us time to see whether or not this social distancing and stay at home order is having the bend of curve effect."
All citizens are asked to stay home. However, they may go on runs, hikes, and walk their dogs or pets. Stores like grocery and pharmacies are to remain open. Jobs that "sustain the environment and keep people safe" like plumbers, carpenters, and such on are able to work like normally. Permits are still allowed to be sent to people within these businesses to resume with usual work. 
Students in Illinois are to stay home until April 8. Chicago Public Schools have stated that school will be closed until April 21. This is to enforce that the virus would not spread in such a large area and crowd of people. 
"I am bringing the experts to you so you know what is going on," Pritzker said when speaking about rumors that are spreading within the state. "We do not want people getting together so they do not break this 6-foot rule [social distancing]. We just want people to be extra careful when they are out."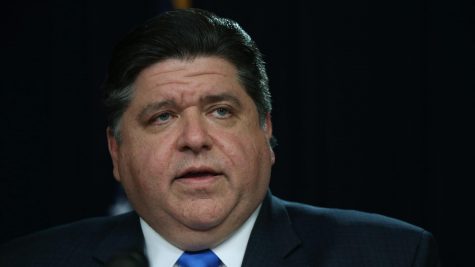 The state of Illinois will be assisting families the best they could to help them. Chicago mayor, Lori Lightfoot, said that schools will continue to handout meals for families. On a national level, President Donald Trump has issued that every working citizen (whose salary is less than $75,000) receives a minimum of $1,000 and if they have children, they will receive money for childcare. 
The Center for Disease Control encourages people to stay 6-feet away from others. When washing your hands, wash with warm water and soap for a minimum of 20 seconds.
For more information on COVID19, visit the CDC website, cdc.gov, watch daily press conferences held by President Trump at 12 p.m. and your local news channel.