Making quarantine safe and enjoyable
Illinois governor J.B Pritzker extended the length of quarantine for all residents in Illinois to April 30. Many stress about work and schooling. Stress causes the immune system to become compromised. With this stress, many forget to enjoy the free time they have to take care of themselves. Citizens need stress-free activities and remain healthy. Here's what they should be doing.
Staying Healthy
People are rushing to grocery stores to buy all sorts of food that may be necessary. There are only a certain amount of foods you will need. To obtain healthy and large amounts of nutrients, fruits and vegetables are always the healthiest choice. Foods like cereals, canned goods, and dried fruits are other choices to consider as they do not expire for a long time. Granola bars or cereal bars and jerky contain protein and other factors to keep you strong and healthy. Schools are offering free meals all throughout Illinois for students 18 years-old and younger.
If you are staying inside for an extremely long time, you may start to feel the air feel stale and dry. To keep air feeling fresh, open windows within your home or place a humidifier in a desired room. Opening a window will bring oxygen and fresh air from outside without any contact from people (COVID-19 is not airborne). A humidifier uses evaporated water or mist into your room to make the air less "dry." You can pair humidifiers with essential oils so when the water is released from it, the oils will release a soothing smell in the area.
The "Stay-at-Home" order issued by the Illinois governor J.B Pritzker does not stop residents from going outside. Everyone needs to go outside to receive oxygen and other nutrients you get from the environment.  If you are completely social-distancing and staying inside, you may want to go on a porch, balcony, or into your backyard so you are comfortable. This will keep you within the range of your family but away from others. If you are feeling more adventurous, you may venture farther away. The order does not stop residents from walking their dogs. You can do this around your neighborhood. Trails and some forest preserves are available to go on walks in. Health Officials strictly remind people to keep three to six feet  between you and those who are not part of your family. Your family is able to stay close to you. Forest preserves are generally open from sunrise to sunset.
Since the closure of gyms and fitness centers, online fitness classes have been booming. People have been determined to find a way to workout from home. Many applications like DownDog, a yoga app that allows you to set your preferences for certain  aspects of your workout,  are offering free classes for students. Online workout programs are offered at affordable rates and can let you experience exercises you have never done.
Activities to do
If you are looking for something that will surely keep you occupied, start taking up a hobby. Hobbies can vary from anything and they will certainly interest you in some way.
Services like Netflix, Hulu, and Disney+ are adding many movies and television shows into their systems on a daily basis. As well, they all have their own content released on their platforms. On Netflix, you may want to watch older movies or series all the way from the 50's to now. Hulu is known for releasing recent episodes from many shows. They offer programs like ESPN and live t.v. Disney+ shelters all Disney movies and t.v shows released. Disney+ also offers content from Pixar, Marvel, Star Wars, and National Geographic. Disney+ is offering itself, Hulu, and ESPN for $12.99 per month.
If you have tried everything to do, I'm sure you haven't tried studying. Studying will help keep your mind active. Programs like Coursera and Khan Academy offer free classes on almost any topic. Coursera is a college-based education program that requires you to attend online classes that are on a schedule so you finish them within a matter of weeks. Professors that run the program will grade assessments and quizzes in the class. You may pay for a certificate that shows you have finished this class. Khan Academy has courses from all grade-levels and is useful for review and learning basic subjects in math, science, history, art, etc.
Being in quarantine lets you get to do things that you may have procrastinated to do in the past. Being able to do what you want will keep you healthy and happier.
About the Writer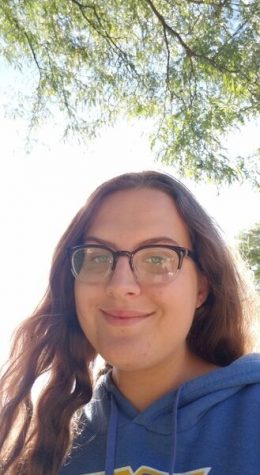 Monika Jurevicius, Sports Editor
Monika Jurevicius is a sophomore at Palatine high school and is involved in both Cutlass and Face. Jurevicius believes that good quality means putting...