Coaches keep athletes active during quarantine
The Illinois High School Association planned for athletes to be back on schedule on April 8. When Governor J.B Pritzker enforced social distancing from COVID-19 until April 30, IHSA had to make a change of plans. They are looking at changing dates for competitions and tournaments, and trying not to come to the final conclusion of terminating the spring sports season. Athletes staying home has been a struggle for many of them. However, Palatine High School coaches are enforcing ways to keep them fit and prepared for any future events.
Scott Hagel, the PHS boys varsity gymnastics coach, has kept his team in contact through Schoology, Remind and Zoom. Each day, a theme is sent out of Schoology to keep the boys entertained. These themes include Gymnast of the Week, Wacky Skill Wednesday, and all the way to Palatine Pride Friday.
"We send out a conditioning list each day during the week. On Thursdays, we use Zoom to have a quick meeting and then do the conditioning together," Hagel said.
Palatine Track and Field has been working on their events since January to prepare for intense meets. Sadly, the season has been short lived due to the pandemic. Coach Chris Quick has been encouraging athletes to use their time effectively and train to keep their spirits up.
"I just told them that they should use this shelter in place time to get outside every day and get in some physical activity," Quick said. "It has to be good for the body and mind to get out of a small confined space. It's definitely hard. They [the athletes] had worked so hard to be ready for this track season, and all of it just imploded on us."
Chase Friel, a Senior on the softball team, has had her final season cut short due to COVID-19. However, she is keeping herself busy with family. Friel makes sure to stay in contact with her team. This difficult time is not stopping her from staying positive.
"During this break from softball, I have been running everyday and playing catch with my sister," Friel says. "Being active helps me to not feel so stir crazy during the day! Our team has been sending pictures and videos to each other of themselves exercising, playing catch, and hitting with family members, and we connected on Zoom to chat about how we've been staying active and what we can do 'together.' "
IHSA is hopeful to return back to normal sports schedules on May 1. For updated information on the season and for future updates, IHSA.org will have all information provided.
About the Writer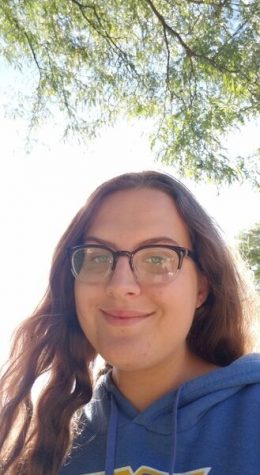 Monika Jurevicius, Sports Editor
Monika Jurevicius is a sophomore at Palatine high school and is involved in both Cutlass and Face. Jurevicius believes that good quality means putting...