How TikTok fashion trends are influencing students
           After scrolling through TikTok for hours, Kayla has now added about 20 items to her online shopping carts. Within the next day, skincare products from The Ordinary, jeans from Zaful, and about four different outfits from Shein have arrived at her doorstep. Across the street, her neighbor Alonzo has just spent several hours sifting through thrift stores for the perfect jeans while Selah has just gotten a new hairstyle. All of these new purchases and ventures have one common source of inspiration: TikTok.
From @xofashioninspo TikTok account

         "Has TikTok influenced my fashion choices? Yes, one hundred percent. I spend hours scrolling through TikTok hashtags like fall trends and skincare, and end up purchasing the cult favorite products. Most of the time it has been pretty successful and it is nice to see the clothing on other people," said senior at Palatine High School Kayla Miotk.
With the ability to look up any kind of video on TikTok, it is easy to be able to find the perfect outfit for a party or the next cult favorite makeup product. With over 800 million people on TikTok, it is easy to influence many people and create a new movement towards a certain trend.
"Super stylish TikTokers, like Charli D'Amelio, Addison Rae, Daisy Keech, and Madi Monroe are all leaning into the same trends – tie-dye, Air Force 1s, and '90s denim, and more," said Rachel Bogo from Seventeen Magazine.
Common trends that have originated from TikTok are white Nike socks with air forces, Tie Dye sweats, and baggy oversized clothing. Once a major influencer posts these items, they get the ball rolling and soon sell out in stores.
"I saw Addison Rae wearing a pair of tie dye sweatpants on TikTok and soon after, every other video was a new person wearing tie dye sweatpants. I personally did not jump on the bandwagon, but I have purchased a pair of oversized jeans," said Hoffman Estates High School Sophomore, Amaya Hendrickson.
from @ffionlloydhughes TikTok account
TikTok is also known to have brought back many trends, such as thrifting for vintage clothing and scrunchies. Stores such as Brandy Melville and Forever 21 quickly filled their stores with vintage fashion and sold out just as fast. And this was all done simply through a video sharing app.
A popular sound used for fashion trends goes along the lines of, "I don't dress cool so men will pay attention to me. I dress cool so thirteen-year-old girls will walk by me down the street and whisper to their friends: did you see that girl's outfit?", and it has definitely been a string force for the change of style in TikTok users.
About the Writer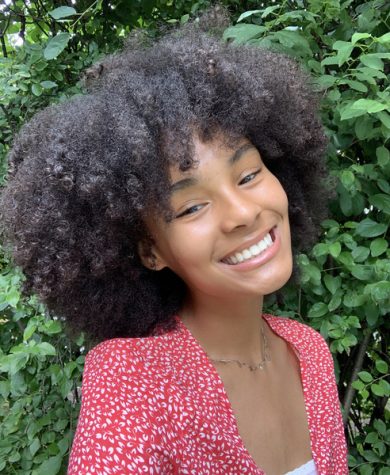 Anya Ball, Photo Editor
Anya Ball is a Palatine High School student that is very passionate about photography. She enjoys shooting photos and video at many games and events going...