Pat Hughes zooms the sports lit class
"A little bouncer slowly toward Bryant. He will glove it and throw to Rizzo. It's in time! And the Chicago Cubs win the World Series!"
This one of a kind radio call from Pat Hughes in 2016 gives Cubs fans goosebumps whenever they hear it. 
Last week, Palatine High School got to welcome legendary radio announcer Pat Hughes in a Zoom call for sports literature. Hughes told his story of how he became the voice of the Chicago Cubs and answered many questions from students. 
"My biggest advice is to strive to be the best at your job, no matter what that job is," Cubs announcer Hughes said. "If you want to be a janitor, be the best darn janitor in the world."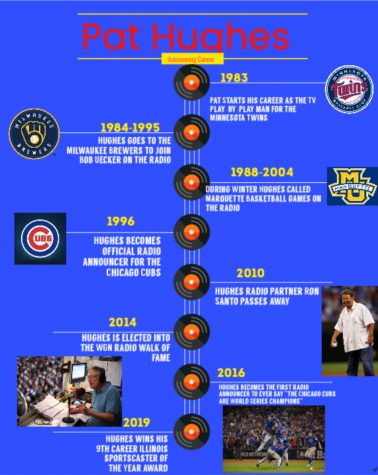 Al Paul of the English department was thrilled about being able to interview the famous broadcaster. When asked why he asked Hughes, he said, "I have listened to his voice on the radio for over twenty years. When I had the opportunity to invite him to join us, it was a no-brainer."
Pat Hughes has won nine Illinois Sportscaster of the Year awards given by The National Sportscasters and Sportswriters Association. The years he won the awards range from 1996 to his most recent one in 2019.
Hughes started his career as a television broadcaster in 1983 for the Minnesota Twins and later the Milwaukee Brewers. In 1995, he was hired as the play-by-play radio man for the Chicago Cubs.
"The biggest difference between television and radio is that in radio, the audience is completely blind," Hughes said. "You really have to paint a clear picture for the audience to see. This makes radio a lot harder than many people think."
Hughes graduated from Branham High School in San Jose, California in 1973, and from San Jose State University in 1978 with a degree in Radio/TV Journalism.
"I have learned that the best way to improve my broadcasting is not by learning about it in a classroom, but by gaining experience," Hughes said.  "I was very fortunate that I was able to practice this during high school basketball games when I was very young."