IHSA holiday TikTok challenge brings teams together
UPDATE December 15, 2020 IHSA announced their winners of the "IHSA Holiday TikTok Challenge" via video from Vice President of Partnerships of High Schools at Double Good, David Lenti. The winner of the $500 prize is Andrew High Schools girls volleyball team, with the money being split in half for their volleyball program and charity, St. Jude Children's Hospital.
With winter sports being postponed and the holiday season in full swing, the Illinois High School Association (IHSA) launched a new TikTok challenge titled "IHSA Holiday TikTok Challenge." School sports teams and activities were challenged to submit holiday videos for a chance to win $500 from Chicago-based popcorn company Double Good to help the school's program and donate to any charity of the winner's choice.
"The intent of this contest is to create a socially distanced way for you to connect with your team during the IDPH [Illinois Department of Public Health] Tier 3 mitigation pause," assistant executive director Tracie Henry said in an email sent to all IHSA coaches.
IHSA has already picked their top four TikTok videos to showcase and have a chance of winning the prize. The top four include the following schools, activities, and charities: Mercer County High School Show Choir (Mercer County Family Crisis Center), O'Fallon High School Girls Basketball (O'Fallon Food Pantry), Vienna High School Cheerleading (Johnson County Strong) and Andrew High School Girls Volleyball (St. Jude Children's Hospital). 
"We thought it would be really fun to have 'Eagle Claus' be in our video and we were so happy to have him down from the North Pole," Kalysta Conley of the Vienna High School cheerleading team said on featuring their school mascot in their video.
With sports and communities being affected by the COVID-19 outbreak, teams have not been able to connect in-person for most of the year. IHSA developed a plan to help players and students have a small amount of hope for the holiday season.
"Our team is super close and since, right now, we would be playing but we're unable to play, we wanted to take the advantage of every opportunity we had of being together,"Amelia Bell of the O'Fallon High School girls basketball team said.
IHSA collected votes from their website, IHSA.org, and through all of their social media accounts. Votes closed today, Dec. 14, at 8:00 am, with the winner being announced Dec. 15.
"We appreciate every team who took the time to create and submit a video, and hope it was a fun and safe way to connect," IHSA commented on their website.
About the Writer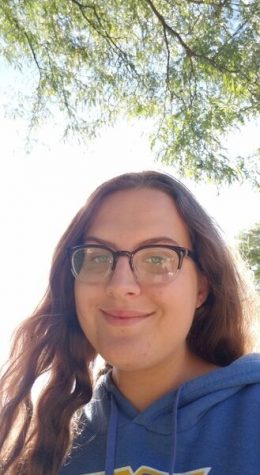 Monika Jurevicius, Sports Editor
Monika Jurevicius is a sophomore at Palatine high school and is involved in both Cutlass and Face. Jurevicius believes that good quality means putting...