Past and present influential Black Americans
February 3, 2021
In honor of Black History month, Cutlass is featuring an influential Black American each week in the month of February.
Robert S. Abbott
Robert Sengstacke Abbott was born Nov. 24, 1870, in St. Simons, Georgia. He died Feb. 29, 1940, at the age of 69 in Chicago, Illinois. His father died when he was just a baby. His mother went on to marry John Sengstacke, a biracial man of German descent. 'Sengstacke' was added onto Abbott's name.
Abbott attended what is now known as Hampton University in Virginia, a historically black university. While there, he studied the printing trade. However, he went on to earn his law degree from Kent College of Law, in Chicago. He attempted to open his own law practice, but due to racial discrimination, he was unable to to do so. 
Due to not opening his own law practice, he founded the Chicago Defender in 1905. It became the most widely circulated black newspaper in the country. It was a way to give hope to oppressed people of the south, as it encouraged people to leave the south for the north. He even set a date known as "The Great Northern Drive." 
Another notable accomplishment of his was founding the Bud Billiken parade in 1929. It was named after a fictional character named Bud Billiken for articles in the Defender. It became a parade where African Americans could celebrate their pride and historical connections. The Bud Billiken parade is still celebrated today. 
Abbott was a trailblazer that sought for a world that was free of racial prejudice. After suffering setbacks, he persevered to accomplish numerous goals. His contributions have helped pave the path for many others. Chicago Defender is still up and running today, showing that his legacy continues on. 
Gwendolyn Brooks
Gwendolyn Brooks was born June 7, 1917, in Topeka, Kansas. Her family later moved to Chicago, Illinois where she was raised. She passed away on Dec. 3, 2000, in Chicago, Illinois. Brooks is considered one of the most highly influential 20th century poets.
Her first published poem was at the age of 13. By the age of 17, she was frequently publishing her poems in the most widely circulated black newspaper at the time, Chicago Defender. Her work centered around the black urban experience. 
The first Pulitzer Prize in poetry to be given to an African American was awarded to Brooks in 1950. Titled "Annie Allen" which followed the life of a black girl growing up in a South Side Chicago neighborhood. 
Brooks published her first and only novel in 1953, titled "Maud Martha." It followed Maud who suffered prejudice at the hands of not only white people, but light-skinned African Americans. It was a novel that looked at how beauty standards can play a factor in prejudicial thoughts from within the African American community. 
She not only connected local experiences to her writing, but global as well. She traveled to various countries in Africa, where she wrote pieces based on her time there. While in Ghana she saw how natural hair was trying to be erased. She wrote a poem "To Those of My Sisters Who Kept Their Naturals," which celebrates black women's natural hair. 
Brooks has set a precedent for writers of color everywhere. She took a joy of hers and used it to create pieces to elegantly speak upon issues that were important to her. Her intention was to boost the black community to a level that was not easily reached. Through her writing, she has managed to give a voice to the voiceless. 
Gordon Parks
Gordon Parks was born Nov. 30, 1912, in Fort Scott, Kansas and passed away Mar. 7, 2006, in New York, New York at the age of 93. Parks is considered one of the greatest twentieth century photographers. 
Born into segregation and poverty, Parks was entirely self-taught. His work centered on race relations, urban life, and civil rights. Growing up during the Great Depression era influenced his work heavily. As time went on, Parks began creating photographic series on the civil rights movement including Malcolm X , Harlem gangs and many more. 
"I saw that the camera could be a weapon against poverty, against racism, against all sorts of social wrongs," Parks said in an interview in 1999. "I knew at that point I had to have a camera."
After gaining widespread praise for his photo essay of a Harlem gang leader, he earned a position as the first African American staff photographer and writer for Life magazine. His skill extended into the fashion industry for two decades. 
Parks ventured out to writing and eventually directing. He became the first African American to write and direct a major Hollywood film, which was based upon his book "The Learning Tree." After his debut, he directed the box-office hit Shaft, ultimately creating the blaxploitation genre. 
The work that Parks created has left its mark on the world. His work resides in numerous museums, one being the Art Institute of Chicago. Capturing the true essence of the social climate African Americans lived in during that time, Parks was an activist for change. He was a true visionary that crossed boundaries and created art for social justice.
Issa Rae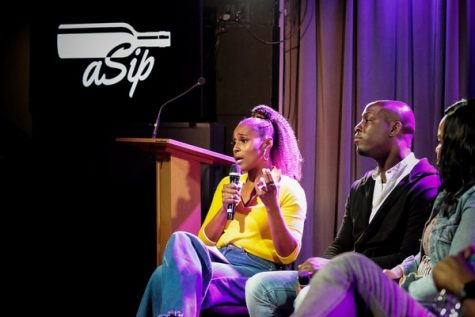 Jo-Issa Rae Diop, also known as Issa Rae, was born on January 12, 1985 in Los Angeles, California. Rae is best known for her HBO original series Insecure.
Her love of directing and writing scripts began at a young age. When she was eleven years old, she went to a live taping of the 1990's sitcom Moesha. While there, she got her hands on the script, and from that moment on she knew she wanted to write and direct. 
Graduating from Stanford University in 2007, she went on to create her breakout web series Awkward Black Girl. 
In an interview with News One Now, Rae recounts a time where she told a friend the name idea for the web series. The friend questioned the name and suggested it be called "Awkward Girl."
"The black part is what makes it special," she said. "It's an identity we weren't allowed to have."
Insecure follows the life of a modern day African-American woman as she tries to navigate everyday awkward experiences. It's in the production phase for its fifth and final season. She has written, produced, acted and created for "Insecure." 
In addition to her many talents surrounding Insecure, Rae has created a media company titled, Issa Rae Presents and an audio company, The Raedio. 
Rae started out with ambitious dreams that are now fully realized. She continues to exceed expectations with all that she has accomplished at a young age. Her work continues to inspire and give the representation that so many Black people seek.