The rise of a TikTok star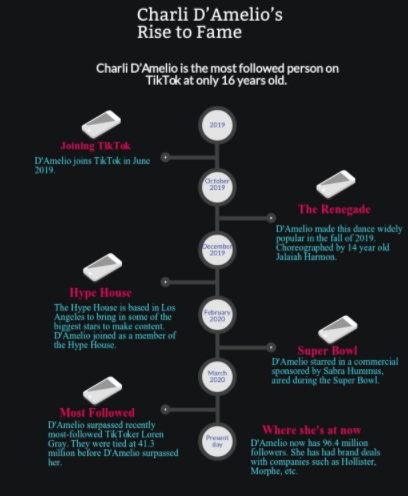 With dancing on her mind, Charli joined TikTok in June 2019. Being a competitive dancer has its perks, especially for an app that's big on dancing. Dance is an art form that anyone can join in on, experienced or not. TikTok allows people to create and show appreciation for others' creations. Charli has shown her appreciation through dance. 
Sixteen-year-old Connecticut teenager Charli D'Amelio saw an opportunity to put herself out there. Using a feature of the app known as duets, put D'Amelio on the map. A common video to make are dance tutorials, which user "Move With Joy" did. The video D'Amelio duetted received 2 million views and things only went up from there for D'Amelio.
With 96.4 million followers on the viral video-sharing social media app, Charli D'Amelio is the most followed person on TikTok. She's only 16 years old, but has amassed the greatest following. 
"Her content is mostly dance videos," Fremd High School senior Kate Beckemeier said. "I don't watch a lot of her videos, only the few that show up on my FYP (For You Page)."
Growing up in Connecticut, D'Amelio danced competitively. TikTok has become a place for dances to take off. Various dances have been created on the app and tutorials are made so others can participate.
On Oct. 28, D'Amelio had 95 million followers. As of Nov. 1, she is already at 96.4 million followers. Within the span of four days she has gotten approximately 1.4 million followers.
"I don't follow her, but I think it's kinda crazy how her life has completely changed because of TikTok," Fremd High School senior Eisha Peyyeti said. "I think her rise to fame is kinda unbelievable."
Over this past year, she has had many sponsorship deals. Ads with companies such as Hollister and Morphe Cosmetics have been seen all around TikTok. In addition, she has done numerous virtual dance classes with acclaimed choreographers such as Brian Friedman.
"I consider myself a normal teenager that a lot of people watch for some reason. I mean, it doesn't make sense in my head, but I'm working on understanding it," D'Amelio said in an interview with Variety Magazine.
D'Amelio has used her platform to speak out in support of the Black Lives Matter movement. Many big TikTok stars were called out for remaining silent on recent issues. However, one thing that D'Amelio did was change her profile picture to say "Black Lives Matter."
"I think it's good she uses her platform to spread awareness on issues," Peyyeti said. 
D'Amelio continues to gain followers each day. Her fame has risen to great lengths in a very short time. It won't be long until she reaches 100 million followers. Her followers and fame are limitless.