Suburban art festival showcases a variety of artists
Music, art and bustling patrons enter the blocked off streets of downtown Highland Park to fill the streets with creative energy at the 38th annual Port Clinton Art Festival. Over 250 artists came to the festival to showcase their work in booths set up on the sides of main roads. PHS Cutlass spoke with three of the artists at the festival.
Jonathan Rose
"For me, the most part [of the festival] is rediscovering the fascination of the beauty of my work through other people's eyes," Jonathan Rose, an artist at the show, said.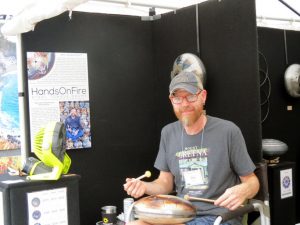 Rose refurbishes propane tanks to create steel tongue drums, an instrument played with rubber mallets. His passion for the instrument came upon him when he took his skill of welding (learned from his father) and love for percussion, and put them into one. The use of propane tanks plays a significant role in the production of the drum as the material is recycled, but adds on to the philosophical idea of them. 
"I'm passionate about the story of redemption," Rose said. "I've always liked the idea of taking broken and discarded pieces and finding the story of redemption and bringing it back to life. No matter what our our story is, no matter what our past is, no matter our dents and pieces, there can always be a piece of beauty in a song pulled out of that and brought back to life."
Rose created his company Hands On Fire to remind others that they carry a creative fire in them and that "we all have a creative piece to bring to the world."
Janice Czerwinski
Janice Czerwinski is a landscape painting artist based outside of Chicago where she takes a scene at the moment it's at, and translates it exactly as it is onto a canvas with oil paints.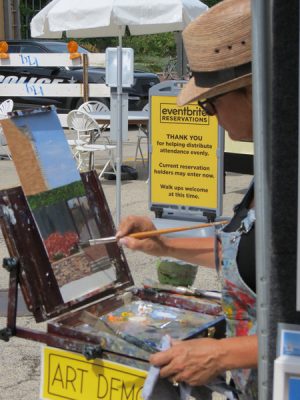 "I take my plein air painting box, and I sit there and paint small studies live," Czerwinski said " I look at it with my own eyes, it captures more detail, subtleties, more shadows."
Czerwinski, who grew up on a farm when she was younger, always carried a sketchbook with her. Her passion for painting grew with that book when she pursued her degree in graphic arts, and later transitioned to painting full-time. Czerwinski comes to showcase her art not just for the recognition and sales, but also for the stories and actions that have impacted her doing them. 
"I always walk away reminding myself of how many business cards went out, how many people signed up for my newsletter… there's a real joy in standing here and painting live, talking to adults and children about my process," Czerwinski said. 
Sebastian Sparenga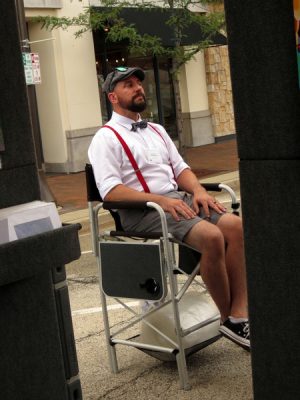 Sebastian Sparenga is a Chicago scientist/artist who takes his line of work and creates it into art. Sparenga works in the scientific field of microscopy, where he takes pictures of chemicals under a microscope with a polarized filter, which brings out the natural colors of the substance. "I want people to be surprised when they find out what they're actually looking at because a lot of people will come in here thinking they're looking at an abstract [piece]," Sparenga said.
Sparenga has used everyday substances like caffeine to ones like TNT to showcase the focused complexity of the material. He has been in the art show scene for ten years now, gaining recognition for the line of work that he does that is so unique to a large audience.
I'm one of the few people who do this in the art show scene and I think it's cool to show people something they've seen a hundred times but in this way," Sparenga said. 
For future announcements of art shows and other artists' work, visit Amdurproduction.com for further information.