Why you should join the Genders and Sexualities Alliance (GSA)
Home. Something everyone wants to have, but sometimes can't. For some, it's because their parents aren't always around. For others, they've been displaced from their old one and are longing to find a new home. For me, it's because of my gender and sexuality. 
I know, you thought I'd have something more exciting like a death or maybe an addiction. Nope. Instead it's my parents, specifically my mother, being unaccepting. Ever since I can remember, I knew I wasn't the same as the other girls. I thought it was just me being insecure but I later came to realize it was actually because I like girls too, and then later on that I'm not one. Of course I won't fit in! When I was in seventh grade, I came out to my mother as bisexual. She told me "You're not gay! You can't make that decision until you're an adult!" From that day on, our relationship has deteriorated. I've decide not to come out to her as non-binary from the way she talks about my other trans friends. 
Unfortunately, a lot of other kids are in the same situation as I am. They feel unsafe at home and can't open up to their parents about their true selves. That's why one of my close friends Orion (he/they) and I, along with the help of our sponsor Mrs. Quick (she/her) and a couple other students formed the Genders and Sexualities Alliance, or Rainbow Club as we like to call it. Our goal is to create that safe space for queer and trans teens at PHS. We want everyone to feel accepted and heard. I was just informed that I am a part of the Equity Committee so that may help amplify our often silenced voices. We also want to try to educate the general public about queer issues and history. LGBTQ+ history is very rarely taught in schools and as a queer person, I don't feel represented at all. I hope with the creation of this club we are able to really start to change people's perspectives on us. 
By joining the GSA, you are letting us know that you support and stand with your queer peers and friends. You are also adding another voice to the choir and making our message of love, acceptance, and equality heard. We meet on Fridays at 3:30 in room 210. Feel free to pop by and say hi! Come whenever you can, there's no requirements on the amount of days you have to be there. If you have any questions, email me at [email protected]. 
Leave a Comment
About the Writer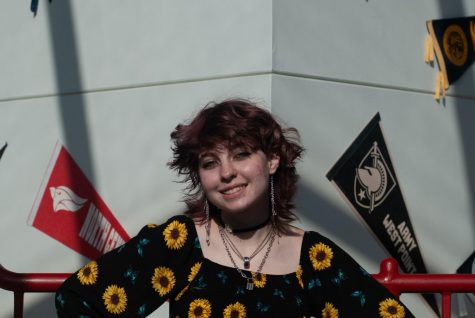 Sophia Stupen, A&E Editor
Sophia uses they/them pronouns and is a PHS Junior. As an A&E Editor, their goal is to showcase different artists at Palatine High School and advocate...