A look back at PHS boys gymnastics after IHSA state tournament
The Palatine boys gymnastics team, coached by Scott Hagel, is nothing more than a rag tag group of guys who want to have fun.
On May 15, 2021, the team earned 3rd in state. After senior Carter Christenholz fell off the high bar after hitting his legs and dislocating his elbow adversity was nothing but present within the team.
"It was an all a rounder (Carter Christenholz) at a meet like state," Hagel said. "Yeah, you're not gonna have a chance at finishing anywhere near where you thought you would."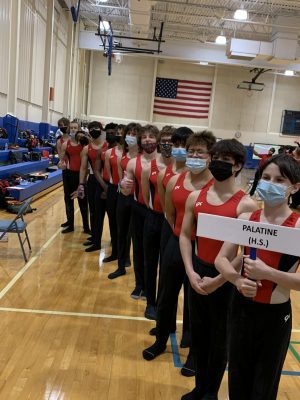 The Palatine boys gymnastics team had 15 out of 32 routines filled by JV gymnasts after Christenholz's injury. The gymnastics team is more than a miracle; it was pure skill and grit. The team was only beaten by two teams with more experienced gymnasts than inexperienced gymnasts.
Palatine is looking to getting back to the season and going back to state no matter what fight. The upcoming year is a big season for the gymnastics team losing top gymnasts Nick DeNatale, Steven Juarez and Carter Christenholz. Dominic Felicia and Trey Wilcox have been on varsity all four years and many JV gymnasts coming up through the ranks are filling those spots. Half of the routines at state were filled by JV gymnasts so it's all skill based at this point.