Students hope to spark awareness with Purple Thursday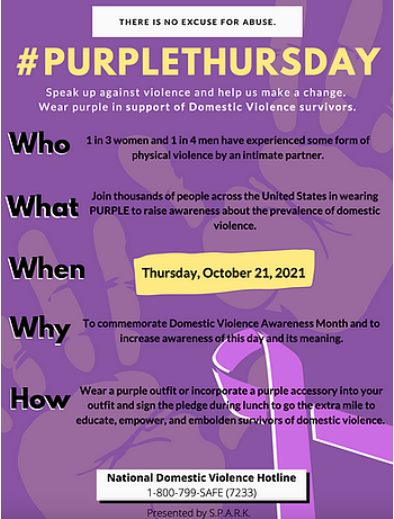 Purple Thursday, an annual event that brings awareness about domestic violence for the month of October which is National Domestic Awareness Month, is on Oct 21.
"This is a national campaign, so #PurpleThursday will pop up all over the country on Oct 21," English teacher Sarah Dyson said.
According to the press release from the National Network to End Domestic Violence one in every four women and one in every seven men will experience or have experienced some type of domestic violence in their lifetime. It can happen to anyone, it doesn't matter the gender, race, or one's sexual identity. Anyone can have experienced it before. It was important that we brought awareness to this. 
"This Oct 21st, in honor of National Domestic Violence Awareness Day (also known as Purple Thursday or Wear Purple Day), we are asking students and staff to take that same pledge and sign the banner during their lunch period," Dyson said.
SPARK stands for, "Student Pirates, Advocating for Representation and Kindness." SPARK is trying to make a change about all different types of topics. Sexual assault awareness Month, mental health, lantix month, pride month and much more.
On Oct 21 during all lunch hours PHS students can sign a banner in the main hallway to show that they are in support of victims of domestic violence. On Friday the 22 during lunchapalooza there will be something similar in case you miss it.
Don't forget that SPARK will be showing the movie "The Half Of It" on Oct 27th at 6 PM in the auditorium. So, those who are interested can go and watch it!
For any further questions contact Alyssa Moreno at [email protected], Bridgette D. Jasinski at [email protected] or Sarah Dyson at [email protected]