Fall weather opens up new items at both Dunkin and Starbucks
As the cold weather approaches and the leaves begin to change colors, more and more people begin to look for and enjoy fall activities. Carving pumpkins, going for a walk, visiting a pumpkin patch, and watching scary movies are only a few of such activities. Fall also means seasonal drinks at coffee shops are also out, and what better way to start off the fall season than hiking with an iced hazelnut latte or curling up next to the fire with hot cocoa. 
It is nice to get in the fall mood and the easiest way to do it with school is to drive down to Dunkin or Starbucks.
"My favorite fall drink would have to be a pumpkin cream cold brew because it's not as sweet as a pumpkin spice latte and it also contains more caffeine than a regular iced coffee," PHS junior Lily Schellenbach said.
During autumn, many people scroll through the menus of Dunkin or Starbucks to find any new fall drinks that have hit it big, as it is nice to try new drinks to get in the fall mood.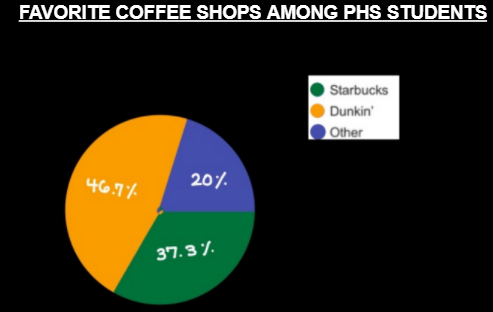 "I found out about this drink because I am at Dunkin' way too much. Because I go so often, I just kept seeing ads for it and decided to try it one day," Schellenbach said.
Although Dunkin is one of the main places for fall drinks, Starbucks has also recently updated its fall menu and has attracted many more customers.
"My favorite fall drink [at Starbucks] is probably the apple crisp macchiato," PHS junior Mikaila Carreon said. "I order this drink only in the fall since it is a limited fall season drink. I don't drink it all the time though, it depends on what I'm in the mood for."
There are many other coffee shops around town that also have a variety of different fall drinks.
"Some small business coffee shop recommendations are the Hangout Cafe, Christie's Dairy Delights, and Conscious Cup Coffee (opening soon in the Palatine area)," Schellenbach said.
If you are feeling conflicted about where to go, go give these shops a chance.