Palatine's heroes: how our firefighters protect and help the community
Sirens sound as ambulance and fire trucks race to the location of their call in their projected six minute time frame. Once the firefighters and paramedics are done with the emergency, they retreat back to the firehouse. 
Shane Koeneman, Alan Martin, and Kevin Piasecki, work together at Palatine Fire Department Station 81 in the rural Palatine area. Working 24 hours a shift, the first responders spend a great deal of time in the firehouse making sure they are ready for anything. 
"A lot of people get the wrong impression that we have to stay awake for 24 hours," Martin said. "They don't really see the firehouse as like our second home, which is exactly what it's like. We get along and we treat each other as if it's our secondary family."
During their shift, first responders must maintain all vehicles, paperwork, communication with the public, janitorial duties, and much more when not out on a call. Certain days entail training and public education events that take up a good majority of a shift. 
"You have things that you do on a daily basis that are the same: rig checks, mopping, sweeping, custodial stuff," Piasecki, PFD engineer, firefighter, and paramedic, said. "But then, one minute you could be going on a fire call, the next minute you could be going on an EMS call."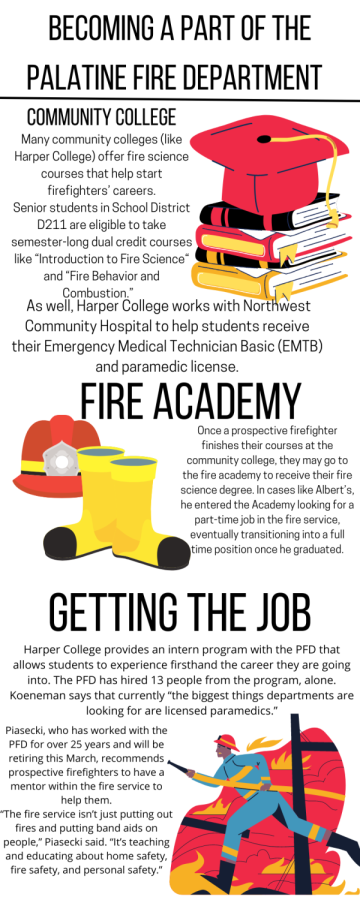 The PFD has three shifts for first responders: black, gold, and red. They all consist of a 24 hour long shift with 48 hours off. Every member of a shift has a crucial role which consists of fulfilling a duty or partaking in household activities similar to those in typical homes.
"My job is to make sure that I'm documenting everything that happens throughout the day," PFD lieutenant Koeneman said. "I'm going to be able to say exactly what we did all day long."
Television shows like Chicago Fire and Station 19, who feature firefighters as their main characters, have downplayed what goes on in the fire station. The shows feature the personal lives and the intense calls the characters are going to. The firefighters at PFD station 81 say the reality of the inner works of the fire station has been misinterpreted due to "lack of public education." The fire department does offer public education opportunities like open houses, classes, elementary education visits, and tours of the firehouse (which are temporarily not available due to the COVID-19 pandemic).
"Unfortunately, what we see on TV becomes more difficult and changes our perspective a little bit," Koeneman said. "[The characters] are just drinking coffee and playing cards. I've never played a hand of cards. I've never played a game. Majority of it is doing work."
Kevin Piasecki
Kevin Piasecki has worked with the PFD since May 13, 1996, totaling 25 years on the force. In March of 2022, he will be retiring from his roles at the fire department and moving to Michigan.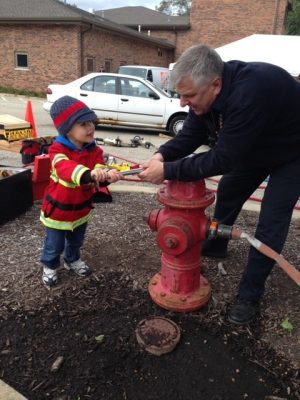 "You're helping people," Piasecki said. "That's kind of a cliche thing as to why people become firemen. But, it is truly satisfying when you make a difference, whether it's a patient or to a house in general."
Piasecki was inspired to become a firefighter from his father who was in the fire service. While being in the workforce, his wife has been the one who has impacted him most. The couple have been together for a long time, starting out as high school sweethearts.
"My wife has always kept me on the straight line," Piasecki said. "We've always had a 50/50 relationship. She is truly the other half, the better half. She kept me pushing to reach my goal."
However, the firefighter has also had bad days that required the strength of his family to keep his emotions in tact. In one case, Piasecki had to assist a four-year-old boy who suffered from a fever and seizures from his illness at the time. For the firefighter, the result of his patient's illness was fatal. The incident "hits close to home" for Piasecki as his own son was four-years-old at the time.
"You see another family going through this and… there have been a lot of tragedies and traumas that you just don't wish upon anybody," Piasecki said. "To see something like this, so innocent and young, it just hit home."
Public education has always been a big part of the PFD's mission within Palatine. Piasecki leads education sessions at Community Consolidated District 15 schools and within the community to inform people of fire safety. Some of his greatest memories come from the interactions with adults he may have met as children, and them remembering his visits to their elementary school.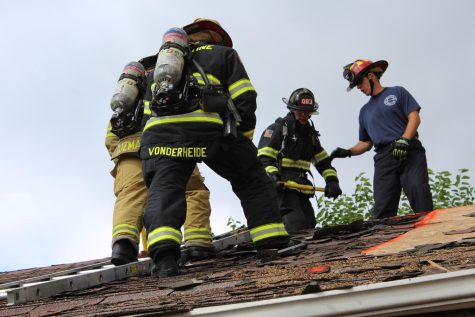 "The fire service isn't just about putting out fires and putting band-aids on people," Piasecki said. "It's teaching and educating about home safety, fire safety, and personal safety."
Before leaving the fire service, Piasecki has one piece of advice: always have a plan B. He has seen his fair share of accidents to firefighters who have almost lost their careers to injuries. As a first responder, he emphasizes that you never will know what will happen to you.
"If you truly want to be a firefighter, you set your goals, talk to somebody within the fire service and don't give up because it sometimes takes several years [to be a firefighter]," Piasecki said.
Alan Martin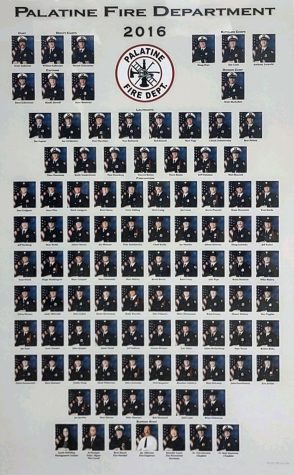 Alan Martin is a Palatine Fire Department firefighter and paramedic. In college, Martin was studying to become a police officer. He needed a part-time job to work, which is when he went to his father-in-law for help.
"My father-in-law was in the fire service," Martin said. "He was able to give me a part-time job if I went to the Fire Academy."
While Martin is not out on a call during his shift, he enjoys using the fire station's fitness room or trying to achieve anything he can do while he has some free time. As well, along with the other firefighters, he is sometimes tasked with the duty of making meals for the firehouse. 
"The workday is still considered like an "eight to five" and then after five o'clock we can kind of do our own thing," Martin said. "So, like today, I brought in an auto part for one of my own cars that I'm going to change if I have some time and flexibility."
As a member of PFD's public education program, Alan hopes the public understands that the firefighters have it in their best interest to answer any of the questions given to them, whether it be at a public education event or in general.
"The only way they [will know about the PFD] is by us educating them," Martin said. "A lot of times adults are the ones that come up and ask a lot of questions. They may ask more specific questions, [while] the kids ask what's on the fire engine."

Established on June 13, 1887, the Palatine Fire Department provides fire safety to over 70,000 residents of Palatine and includes five fire stations positioned strategically to answer calls quickly. Those stations are stations 81, 82, 83, 84, and 85. 
"So far in 2021 we [have over] 600 more calls than we did last year," Koeneman said. 
Station 81 is set to provide assistance to north Palatine, which is also considered rural Palatine. The area oversees typical homes in the area, but as well covers areas like the forest preserves.  It is the newest station from the set of buildings the PFD inhabits. As well, station 81 accommodates the Palatine Fire Department Utility Terrain Vehicle (UTV) for calls in areas like Deer Grove Forest Preserve. The building also houses the reserve engine. The reserve engine was formerly used as the station's primary engine, now it is used when there are larger incidents within the area.
"[We have to make sure] we understand those low frequency, high risk calls, [that] we're prepared for them," Koeneman said.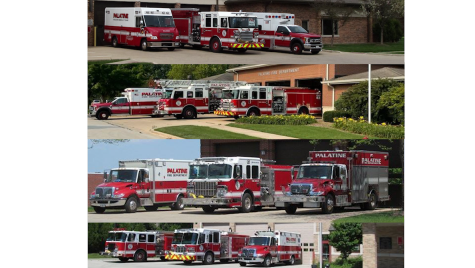 A landmark for Palatine High School students, station 82 is the closest station to the school and responds to the most calls out of all the stations. They respond to calls around a set proximity of the building, all the way to Highway 53. To accommodate for the large number of calls, this station has five firefighters working at all times: one lieutenant and four firefighters/paramedics. 
Across from Winston Campus Elementary School sits Fire Station 83. This station responds to any calls on the stretch of Route 53 and Northwest Highway. The typical calls received by this station are medical emergencies by the homes around them, but more commonly car accidents. It carries the typical fire engine and ambulance, as well as the reserve quint (an engine that has a ladder and water-pumping abilities).
The largest out of all the fire stations is station 84. Station 84 is commonly remembered by CCSD 15 fifth grade students as they travel to the station for their field trip as a part of PFD's "Fifth Grade Program." This station is used for training as it has the department's training tower, a three story building that can mimic the effects of a real emergency. Not far from the stations, the since-closed Zimmer Hardware building, which was sold to local pizzeria Pizza Bella, was one of the other training areas for firefighters. Other training facilities are also built into this station and the Chief of Training's office is at this location. The PFD's boat and dive team's vehicle is also kept at this station for water emergencies.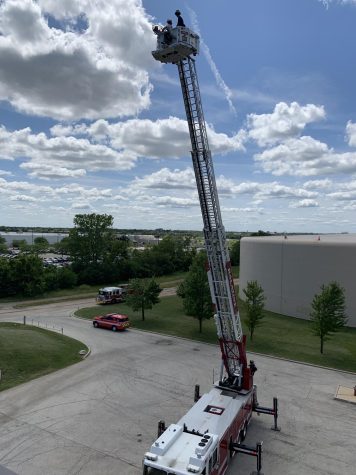 Palatine fire station 85 is the oldest station in the PFD. The station houses PFD fire chief Patrick Gratzianna's office and the administrative offices. Station 85 covers the downtown Palatine area, allowing it's engine to make regular appearances at public events like Street Fest. Battalion 8, a red Ford Expedition that has PFD markings on it, travels to all major incidents in Palatine from this station. The battalion chief uses this vehicle whenever he is called out to assist the emergency. Two other vehicles also remain at this station: Tower 85 and Ambulance 85. Tower 85 is a fire engine that has a 100 foot aerial ladder with a basket that helps immensely in specialized emergency situations. 
For more information, visit the Palatine Fire Department website or contact the administrative offices at 847-202-6340. Please contact 911 for any emergencies.