PHS runner is given medal of recognition at D211 board meeting
The crowd claps at the District 211 board meeting as Palatine High School cross-country runner Mason Krieg receives a medal of recognition for his leadership and resilience in the program.
Krieg, a junior at PHS, received a medal of recognition at the Jan. 20 D211 board meeting along with six other students from the district. He was the only one to be recognized for the sport of cross country as he placed twenty-first at the state cross-country meet and earned all-state honors, which the rank is given for those who are in the top 25 at the state level.
"Getting recognized at the board meeting was a very crazy and cool experience that I never thought would happen to me," Krieg said. 
Varsity cross-country coach Joe Parks presented the award with a speech that highlighted the runner's ability to lead the team to an Mid-Suburban League title and achieve top ten in state as a program. Parks also mentioned how Krieg had fallen ill during the fall season, but after being cleared to come back to running, he was able to raise above expectations.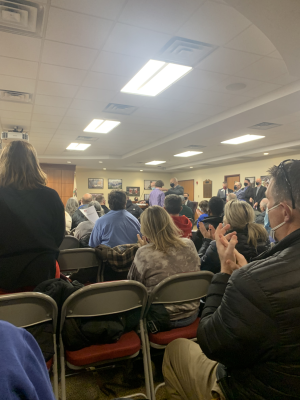 "With coach Parks' training schedule and my teammates to run with everyday, I was motivated and wanted to run well for them which helped me get into really good shape," Krieg said.
Like many athletes, the state meet was a personal favorite of Krieg's as he ran a new personal best, which was "15 seconds faster than my previous best." He ran for 14 minutes and 49 seconds for a three mile race for the meet that gained him the all-state honor. The beginning of the cross-country season also helped him change his mindset for the better.
"The very first meet of the season at Hinsdale Central [High School] was very important to me because that's where I ran 15:04, which was at the time a personal best of a minute, and really helped give me confidence for the rest of the season," Krieg said. 
You can expect to see Krieg this upcoming spring season running with the boys varsity track and field team, with the first meet being Feb. 12 at 10 a.m. at Hononegah High School.