Lady pirates begin a promising season
On September 3, the Lady Pirates were awarded third place at the Red Devil Hinsdale invite. The Palatine Girls Cross country team is off to a strong start.
After placing sixth at the Hinsdale meet, Abigail Jordan, the team's highest-seeded runner, welcomed a sixth cross country season onto her belt. Jordan has been running since she was in fifth grade and still deals with race day nerves.
"You're just going to have to stick your nose in there regardless, and if it doesn't work out perfectly, you can go home knowing you did everything you could for your team," Jordan said.
Staying physically strong throughout a race is difficult, but for most runners, the real struggle emerges when internal worries and thoughts of failure begin to take over.
"For me it's staying calm," Jordan said. "I'm just going to have to be a little bit tougher today than I normally have to do."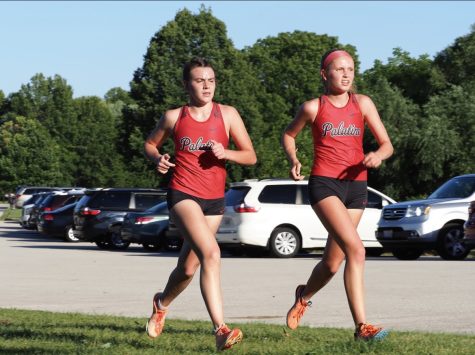 No matter if runners are on a school-affiliated team or just training for a local street race, running has a similar psychological effect. Runners can improve resilience and gain hardiness tendencies. It's difficult not to become addicted to craving greatness after accomplishing something meaningful.
However, with hard work comes lingering injuries for most Palatine runners. Struggling to stay healthy and prioritize each workout can get hard to handle.
"In cross-country, you're putting in so much value, and so much work, that things have a tendency to hurt," head girls track and field coach Kevin Conway said.
Conway compares the anticipation of cross-country injuries to "walking on a tightrope." 
Running can result in constant wear and tear, which can be hard for young runners to manage.
Although cross-country can have its quirks, the good definitely outweighs the bad for most runners.
"I'm probably gonna run for the rest of my life," senior cross country member Owen Elliot said. Elliot describes his hobby of running as "being bit by the running bug."
 As for the future of the program, it can be projected that this upcoming season might be one of many more exceptional seasons to come for the young runners of Palatine High School.