Pirate Football Week Four Recap
The Palatine Pirates varsity football team could be on track for one of the school's best seasons ever. In their past few seasons, the team has had records of 7-4(2021), 1-1(2020), 4-5(2019) and 1-8(2018).The team made the playoffs in 2021, losing in the second round to Neuqua Valley 31-8.
After suffering a loss in week four to the Glenbrook South Titans 43-42, the Pirates still have hope in backup quarterback Tommy Elter.
Offensive line coach Robert Schuetz talked about the coaches' expectations for the players and how far he believes the team can go.
"The goal going in every year is a state championship," Scheutz said. "If you prepare like a champion, you get some breaks along the way and stay healthy, there's no reason this team couldn't achieve that level of success."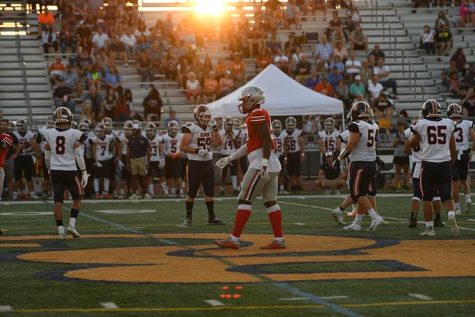 In a post-game interview after defeating the Saint Charles North North Stars week one, tight end and defensive end Nate Branch talked to Cutlass staff about his feelings towards this coming season. 
"Revenge tour 2022, we're not playing around this season," Branch said. "I don't care who it is or what it is, the Pirates are coming." 
According to MaxPreps the Pirates are ranked 20th in Illinois, giving them plenty of hope that the season could end in their favor.
Jaylen Williams was especially excited after the red and white scrimmage about the team that he is surrounded by. 
"I just love this group in total and I'm just proud to be a pirate," Williams said.