Pirates fall to Knights
Palatine Pirates girls basketball lost to the Prospect Knights last Tuesday night with a score of 52-35. 
Before the tip-off, the game took an unexpected start with a technical foul called against Palatine for illegal jerseys. This gave Prospect the early 2-0 lead after sinking both of the resulting free throws. That set the tone for the first quarter as Palatine was unable to grasp the lead by the end, resulting in a score of 17-11.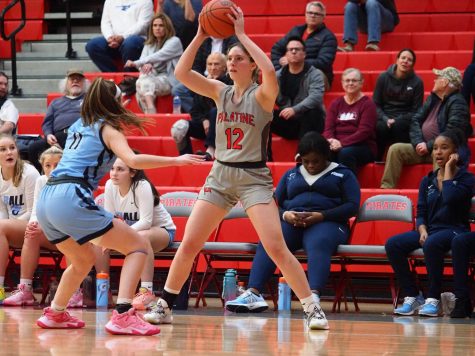 "I feel that the team has a lot more chemistry than previous years," Senior Payton Westphal said. "We have a lot of returners, but we also have a lot of skilled players that were on JV last year that have contributed a lot to this team."
That team chemistry was shown in the second quarter, as the girls did not back down from trying to close the point differential. The quarter started in an aggressive tone, with multiple fouls on both teams within the first four minutes. Palatine continued to chip away by scoring points off of free throws, but they could not match Prospect's baskets as they ended the half losing 23-17. 
"We've got a lot of energy out there on the court," Coach Bill LePage said. "They love to play the game and I never doubt their desire to be there."
Though the second half started with a 7-0 run, Palatine showed their desire by fighting hard the entire game. Unfortunately, the pirates were not able to make a comeback. 
"Though this was not the desired result from the Pirates, the girls did a good job of taking open shots, running what they wanted to offensively, and getting the ball in the hands of the right people," LePage said. "We just need to finish." 
"He has done a lot for us this year and previous years," Senior Jolie Devalk said when asked about Lepage. "He's been there for us on and off the court and in and out of the basketball season." 
With the support of their coaches, fans, and each other, there is no doubt that this group of girls is going to bounce back and have lots of success this season.