Palatine basketball season update
Palatine boys basketball had a successful season last year with a record of 19-13, but the team is working hard to improve this year and make it to the playoffs. 
"We set some goals last year that we never got to accomplish, so coming back this year with a lot of returning senior leadership, we are still holding ourselves to that same high standard," Senior player Sam Millstone said.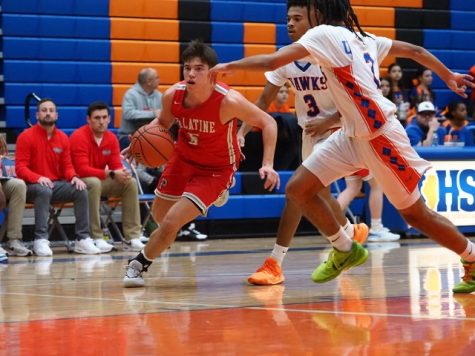 There are many seniors on this team that are fueled up and ready to push themselves further than they have gone in the past few years. 
"Our goal every year is to be playing our best basketball by the end of the season and compete for a Regional Championship," Boys varsity coach Eric Millstone said.
While they have about three months to prepare for the regional championship they are starting their season off strong with a record of 6-2 with many more games to come. 
"There's always room for improvement, especially after the first few games of the season," Senior varsity player Tyler Swierczek said. "Everyone is excited to be playing again but we know that we have to put in a lot of work in order to achieve the goals that we aspire for ourselves."
As the boys team is preparing to push themselves harder than last year the girls are working hard to improve themselves too but also want to have fun this year and celebrate their coach, Bill LePage's, last season. 
"This is the last year some of us are playing basketball and were just hoping for a fun and successful final season," Senior varsity player Megan Van Brunt said. "Along with this is our coaches last year so we're hoping to make this one special." 
Come out and support your Palatine basketball teams at many upcoming games throughout the winter season. 
To find the boys' schedule press here. For the girls' schedule, here.