Taylor Swift "takes the moment" with "Midnights"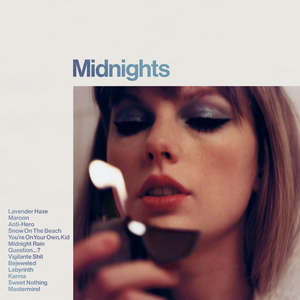 Taylor Swift's newest album Midnights released a total of 13 tracks for her album. This has now been her 10th studio album that she has released and after listening to the album I can say that her songs "Lavender Haze", "Maroon" and "You're on Your Own Kid" are full of breathtaking lyrics.
Her opening track "Lavender Haze" is a mix of alternative and electronic rock. It's an upbeat song that will make you want to get up and move around due to the energetic beat it has to it.
The song "Lavender Haze" is about Taylor Swift's long loving relationship that she has with her boyfriend. The song reminds her fans that she wants to protect her relationship from the trouble the media can cause.
"I find it dizzying. They're bringing up my past, but you weren't even listening."
I think this is a beautifully well written verse explaining how her relationship is so strong that social media and rumors can't cause any conflict between them both.
"Maroon" is the second track on the album, Taylor Swift's voice on this song is essentially different from the rest of the songs. In her song, she sings ethereally throughout her first verses. Until the second verse, her voice changes into a more deep voice. I think her voice in this song is the perfect touch and her low notes complete the song with her effortless voice.
An incredible lyric sung in her song "Maroon" connects deeply with a relationship she once had and how it grew stronger over time.
"The rust that grew between telephones / The lips I used to call home / So scarlet, it was maroon."
This lyric is so significant because "the rust" symbolizes a different shade of maroon only darker. However, she also mentions how it grew between telephones. She's explaining the yearning of communication that wasn't present for years and how it became rusty.
This was an illuminating lyric to hear throughout her song, it's also incredibly amazing to hear how she can sing a story into a song.
Midnights' fifth track is "You're on Your Own, Kid." It's a different melody from the rest of the songs on her album. This song comes off as more of a coming of age song where she sings about the growth she's experienced throughout her years. The lyrics in this song are more emotional compared to the rest of her songs.
"Everything you lose is a step you take / So make friendship bracelets / Take the moment and taste it."
Although this track is different, it's a good difference that makes the song stand out from the rest. I think this track was one of the best tracks from the album because of that.
After releasing Midnights Taylor Swift amazed her fans with a 3am addition of her album where she introduced seven new tracks. These tracks, which were surprisingly added, gave the album more excitement than expected. All seven tracks still stuck to the genre of the album so her new songs weren't a complete surprise to listen to despite them still having similar beats.
The few tracks from the 3am edition carry extraordinary lyrics that make the listener think about the story being told throughout her songs. The entire album was simply full of brilliant lyrics and beats that matched each story of the songs. The album deserves a five star rating for the phenomenal pieces of music that kept the fans listening continuously.