Are high school students being overworked?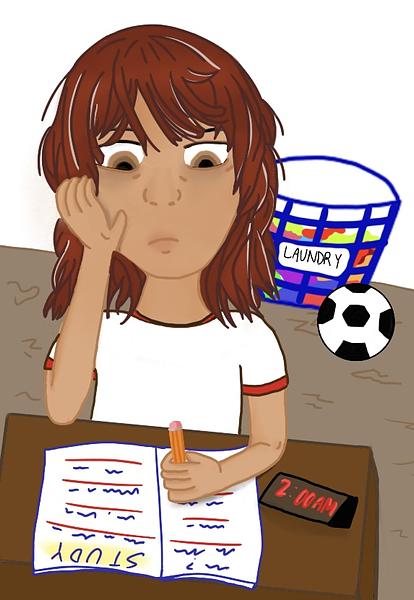 Imagine spending six hours at school, then another six at practice and just going home at the encouragingly studious hour of nine to complete any and all homework assignments. This does not negate the home responsibilities or extracurriculars outside of school, including work. 
Among a post-pandemic teenage generation, high school students all over the country assert feeling overworked and fatigued. 
As a student with the schedule imagined, I believe that in order to combat high school burnout behavior with an engaging curriculum, yet effective curriculum that minimizes the workload for students is imperative and values social-emotional learning. Without these, common feelings of 'senioritis' and burning out will persist and progress. 
A survey of 21,678 U.S. high school students conducted by researchers from the Yale Center for Emotional intelligence proves that "75% of the students' self-reported feelings related to school were negative." Including, but not limited to, 'stressed' and 'bored.'
Many of these negative feelings root in the unfulfilling and overwhelming cycle students are stuck in with school. The stress induced in an attempt to balance all our responsibilities puts students' physical health, mental health, and academic success in jeopardy. 
According to the MQ Mental Health Research Organization, the impact stress has on physical health can start from attention and memory issues. Furthermore, and in a more serious manner, stress can lead to negative effects on the heart, immune system, and metabolic functions that are vital to living a prolonged life. 
Stress can also generate mental health conditions including depression, anxiety PTSD.
However, health issues aren't the only declines that are caused by increased stress. Research indicated by The JED Foundation claims stress because of school can cause a reduction in overall academic achievement. 
The knowledge that our stress about our academics can reduce our achievements in academics is paralyzing. No matter how much is done or how hard we work, there will always be more to do and never enough time. 
Adolescence, as stated by the World Health Organization, "is a crucial period for developing social and emotional habits important for mental well-being." If we students are extremely stressed, developing positive habits for our futures becomes an even greater challenge. 
Combatting these emotions is a team effort, and educators don't understand the magnitude of the impact they have on students' stress.
For example, acknowledging a busy week for a majority of students doesn't suggest increased homework or make-or-break our grade assignments. This doesn't necessarily mean changing the structure of the class to entirely tend to the students, but there needs to be some degree of leniency.
As an overachieving and overworked student, I'm often faced with the argument that I don't need to be doing as much as I do. However, students agree this is a flawed mindset. Having one extracurricular activity or not maximizing the level of AP classes doesn't increase our chances of getting into a competitive college. Our mindsets have been set to be the best knowing there'll always be someone better than us. 
Our futures depend on these four years. That is already so much pressure for teenagers to manage. According to the American Academy of Child and Adolescent Psychiatry, many can't manage the pressure and fall victim to drugs and alcohol, along with the other health risks posed by stress.
Students, including myself, have come to the realization that it isn't worth it. The assignment isn't worth it if it means sacrificing more of the already little motivation we have left. This is when the term 'senioritis' gets used. Is it senioritis or is it maturing?
The fact of the matter is high school students are overworked and stressed. Relieving the stress on students is a team effort that needs both the student and the educators to participate. The more we neglect the facts, the worse it will get for students. More students will suffer from illnesses. More will fall victim to substance abuse. The first step is the hardest, but it's one that students and educators must take together to allow students to believe there is a bright future ahead.