Palatine basketball's best year yet
With the Pirate's season coming to an end on Friday, February 24, 2023, they cap off a historic season. The Pirates finished with a season record of 24-6, the best in PHS history.
Although they may have not gone as far as most hoped, this season was nothing to brush off. The emergence of star junior forward Connor May helped accelerate the Pirates to many of their wins. May went on to win MSL West player of the year.
May was supported by seniors Sam Millstone, Tyler Swierczek, and Quinn Golletz in the starting lineup along with junior teammate Thomas Elter. Millstone and Swierczek were also named All-Conference players.
The Pirates won the MSL West going 9-1 this season, the first time since 1996. PHS had a tough game against Rolling Meadows High School for the MSL Championship. The Pirates went into the Mustang's gym and won a thriller 54-52.
"We looked at the clock and saw there was 1.2 [seconds left] and we looked at each other like 'We're going to win the game' and it was just a matter of getting the ball in bounds," Head coach Eric Millstone said about the final seconds against RMHS.
The Pirates were MSL Champions for the first time since 1996, the first time in Coach Eric Millstone's career. Along with a record-breaking season for Eric Millstone, he was awarded the MSL West Coach of the Year for the second time in his years of coaching, and he displayed why he deserved that recognition all season, drawing up great plays and having outstanding play recognition throughout the year.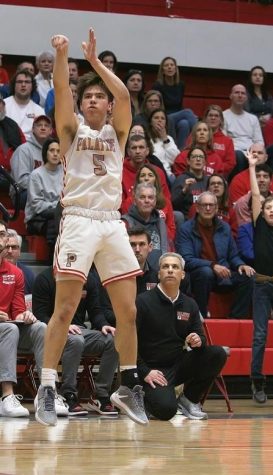 "The only reason a coach gets Coach of the Year is because the team's successful, and the only reason the team's successful is because you've got good individuals who work well together," Eric Millstone said.
Palatine charged into the playoffs on an eleven-game win streak playing against a 7-20 Grant Community High School team. The Pirates won their first-round game easily by a score of 69-37, with Connor May scoring 23 points. 
Heading into the second round of the playoffs the Pirates were on a hot streak with twelve wins in a row. The team was set to play the Prospect Knights, a team that narrowly beat the Pirates earlier in the season. 
Palatine played a tough game, with Tyler Swierczek scoring 21 points in a 47-44 loss to Prospect. The team had statistically the best season in Palatine history, but they were also a very close group of guys. 
"We had great kids and we had great leadership," Eric Millstone said. "We had a group that really got along together. So I think you could uncover a lot of different things and you can say that it was special."