Pirates fall to Condors
The Palatine varsity water polo team lost to the Curie Condors on Tuesday, March 7th with a score of 16-9.
The Pirates' first game this season started off with the Condors scoring a goal right after winning the swim-off. They achieved another goal by getting past the Pirates' defense less than a minute after their first one. This set the tone for the first quarter when Palatine could not get the lead. 
 "We have a young team, but we played a lot better in the second half. Overall it was a great warmup to the start of the season,'' Palatine JV coach John Giuliano said. 
PHS team captain, Cayden Hilgers (#4 PHS) scored the first goal halfway through the first quarter but was quickly countered by David Montufar (#9 Curie) and Luis Romero (#11 Curie).
The first quarter ended with a score of 4-1.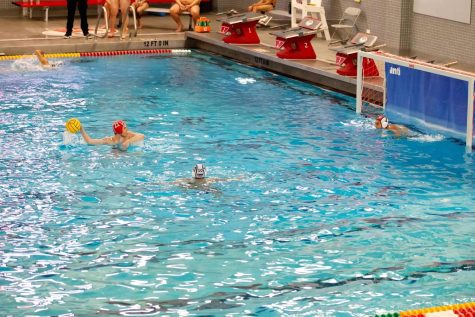 The second quarter was rough for the Pirates when Condor player, Montufar (#9 Curie) scored twice within the first two minutes. 
Despite this, Matt Stepp (#21 PHS) managed to score, bringing a wave of cheers from the stands. 
Ending the second quarter with a score of 8-2, morale was low, yet the Pirates refused to give up. 
The third quarter began with great Pirate defense which was succeeded by a goal by Hilgers (#4 PHS).  During a fierce seven-minute round, the Condors managed to get three goals in, however, their streak was quickly stopped by sophomore Nick Maslowski (#9 PHS). 
After scoring another goal, with under a minute left, it was evident that the Pirates were stepping up their game. 
As the last quarter began, the Condors scored thirty seconds in. However, only 10 seconds later Hilgers countered and got another one for the team. After a few more goals by the Condors and the Pirates, the words "keep fighting" could be heard from the water. 
Hilgers scored during the final minutes, bringing the final score of 16-9 with the Curie Condors winning.
 "For this being our first game and us being a very young team, we did awesome. I just know that we're gonna have a great season." PHS Varsity Coach Joe Gryzbek said.