eSports enthusiastically enters the IHSA arena
Four Palatine students huddle around a TV screen with controllers in their hands, playing an intense game of Mario Kart 8 Deluxe. They shout in frustration as they're knocked around the track, all of them vying to cross the finish line first before anyone else. They aren't playing at home on a couch, they're playing in the computer lab. 
eSports is a new addition to the selection of activities offered at Palatine High School. Students are given the chance to play a variety of video games, such as Mario Kart 8 Deluxe, on a competitive level. 
"A lot of us here are competitive and play to compete in the IHSA," freshman Max Ripley said. "But even if you're playing competitively, it's still really fun." 
eSports is recognized as a sport under IHSA, which means eSports can compete against other schools on the state level. For the second year in a row, they qualified for state and will be competing on Apr. 29. 
"Saturday is the big competition at Evergreen park," sponsor Anthony Volgi said. "We've qualified for state two years in a row now. We have some really talented players."
While both Gaming Club and eSports play video games, the competitive aspect of eSports separates them into two different activities.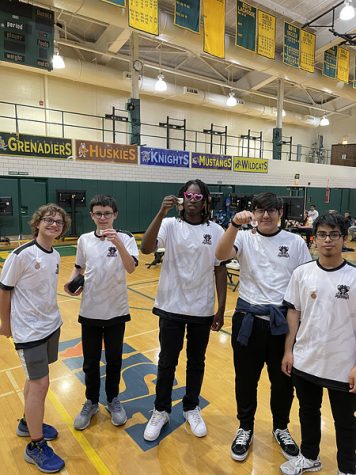 "[Gaming club is] a great home for the kids who maybe just want to casually play video games," Volgi said. "Those who want to take it to the next level and do competitive stuff crossover to us." 
eSports became an official offering at Palatine four years ago, and over those four years it has seen growth in membership and opportunities. 
"We had a team of about 12 or 15 kids, and now we're up to almost 30," Volgi said. "Hopefully as it continues to grow, we can keep putting our best talent out there."
Participating in eSports isn't limited to competitions, as its steady rise in popularity  has opened the doors for universities to begin offering it as a sport as well. 
"Playing eSports can lead to college scholarships," junior Siomara Valdez said. "Because some colleges have some really nice eSports arenas."
The competitive aspect of eSports drives its members closer together as they practice to secure wins for Palatine. 
"One of my close friends is a part of eSports as well," Valdez said. "And [eSports] helped us work together much better than before." 
Being new to Palatine, eSports is still looking to grow and add more members who are willing to take the steps necessary to be more competitive. 
"I want to get to the level where kids don't just see it as I'm gonna go play video games for a little bit," Volgi said. "More so, Hey, I'm serious about this."
As eSports is going to state, they will be apart of the spring assembly on Friday Apr. 28. When students hear them coming, they can give them the motivating send off they deserve.