PHS recognizes the importance of National Deaf History Month
Deaf History Month is about bringing awareness, recognition, and action to the deaf community and beyond. It promotes community engagement that leads to social change amongst society. It leads to a positive outlook of the future where people can understand how many other individuals are unique.
"Deaf History Month is a time to learn about and celebrate the people, accomplishments, and culture of the Deaf community as well as find ways to bring that knowledge and awareness to others," ASL club sponsor Alyssa Moreno said. "It is a time to spark interest in the power of sign language and increase people's awareness of the spectrum of deafness."
Palatine High School brought upon lots of engagement for students to participate and educate themselves on. Not only about the deaf community, but on other communities and topics of awareness: which includes Autism Awareness, Sexual Assault Awareness, and culture of different ethnicities here at PHS. 
"Deaf History Month is a month to celebrate the diversity of our world while trying to understand and educate ourselves about a unique culture that is often hidden in plain sight and what we can do to help," sophomore and ASL club member Elena Lyons said. "There are hundreds of sign languages which all have their own unique culture and history."
A Different Perspective of Enjoying Music
On April 5th, during all lunch periods, Matt Maxey joined Palatine High School in an assembly for Deaf History Month. He is the founder of DEAFinitely Dope and brings music to The Deaf Community. Students in Palatine High School got the opportunity to connect with Matt Maxey and view his perspective of how he and the deaf community can enjoy music.
"What means most to me is the human experience. Whether it's the joy in learning a new language and way to communicate, or connecting with future advocates and allies on behalf of disability inclusion," DEAFinitely Dope founder Matt Maxey said. "All of those experiences contribute to my WHY and how I stay motivated to continue making an impact my way."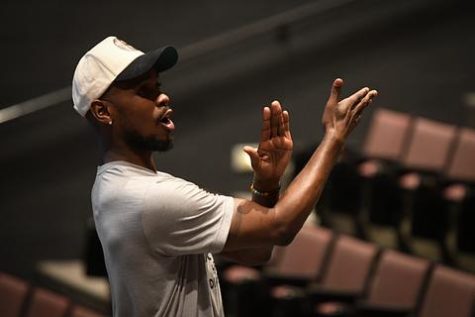 Not only did it make an impact for those in the Deaf Community, but also to those sitting in the audience. Students in the audience got the opportunity to engage with what was going on, whether it was asking how to communicate a certain word or participating with the questions Matt Maxey asked to the crowd.
"I had walked into the auditorium and everyone seemed spiritless at first," freshman Genevieve Jennings said. "He came into the auditorium and started his presentation without an ounce of worry on his face."
A memorable part during the assembly was when Matt Maxey interpreted the tune "I'm Blessed" by Charlie Wilson. After that, he asked the audience if anyone caught the three ways he said "I'm blessed" in sign language. Hands shot up as many students in the crowd found to know the answer. 
"Meeting him and seeing the assembly made it clear how little these differences matter," Lyons said. "Music connects so many people and he was able to use it to show us a new perspective."
He answered the many questions from students: "how do you say other people's names in sign language?" a student in the crowd asked. Maxey then said that names are usually individually spelled out.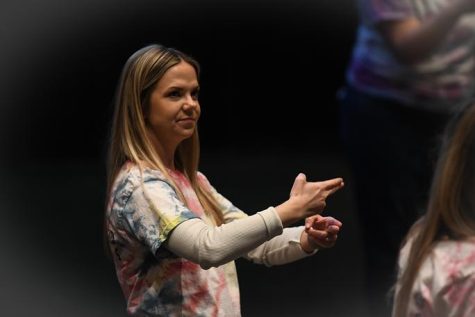 "I think it was rather more the impact he was able to create in the room. You could tell this guy was hard working, and had been in his industry for awhile," Jennings said. "Matt Maxey used his personality and social knowledge with the youth, to create this energy in the auditorium."
PHS's Effort to Educate Others
Palatine High School offers a wide variety of clubs and activities. One club PHS offers is ASL club which meets every Wednesday at 7:30am in room 202. It is the official sign language club. During Culture Fest on April 21, the club had their own booth that offered different activities to learn more about the deaf community. The actions taken to educate other students makes a big difference for a more positive outlook for the community in our school.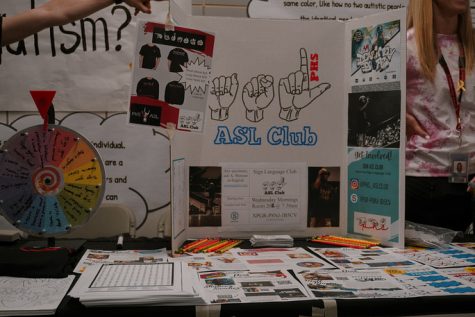 "Death History Month is where people can truly look into deaf culture," Lyons said. "And understand something that is overlooked."