Chicago field trip for AP and 4.5 Spanish students
Thinking of taking AP Spanish or Spanish 4.5 next year?
Aside from considering the classes, there are extra perks, one of them being the fall trip downtown to Chicago to visit the Art Institute Museum and eat tapas. Several classes just went this past week, my AP Spanish class being one of them.
We took two busses downtown on October 8th, filled with about sixty-three of us, along with several Arriving just as the Art Institute opened, we were one of the first groups in the building. We were then split up into groups and assigned a tour guide who would show us around.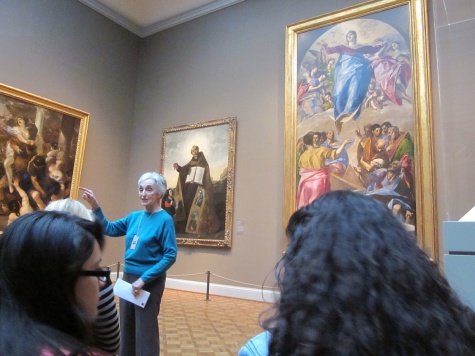 Although we saw many brilliant works walking by, we didn't stop to visit more than five or six works of art, but we were given chairs and listened as the guides explained further about the specific art work we were seated in front of. Is it on wood or canvas? Is it religious? Is the work proportionate? Can you tell what era it is from? All sorts of questions and answers were given.
Some of the works we learned about in detail were:
– Saint George Killing the Dragon by Bernat Martorell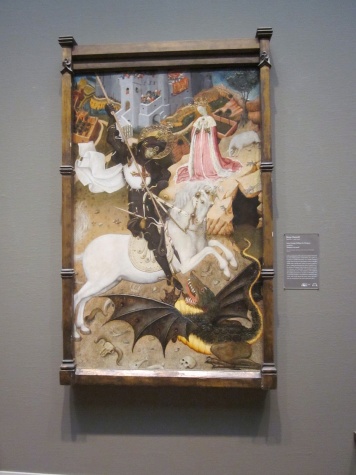 –Painted on wood, had to seal the wood before painting
–The wood built up with the sealing to get a 3D effect
–Saint George killing the dragon was a well known fable in that time
–Painted from 1434 to 1435
–Painters in that time made their own paint from nature mixed with some egg yolk
–This painting was done during the coming of the Golden Age of Spain, right after the Dark Ages
– Saint Marcos and the Beggar by El Greco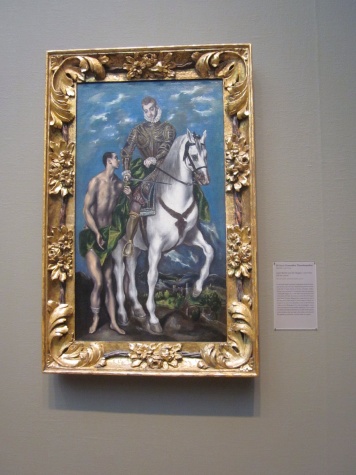 –This painting is newer, done on canvas not on wood
–In this story Saint Marcos cut his cape in half to share it with the beggar
–As you might have begun to tell, many, many, any paintings from years ago were religious, because the painters needed money to paint, and the hurch was a place to find that money
After the museum, we piled back on the busses and drove ten minutes away to a restaurant to eat tapas, a Spanish word for types of appetizers. The restaurant was called Café Ba-BaReeba!.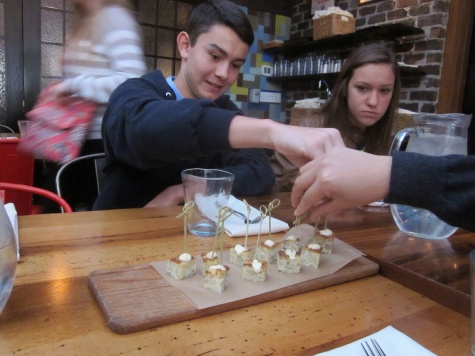 We had the most lovely servers who, as you can tell from the photographs had a rather fun time taking a selfie off of my camera.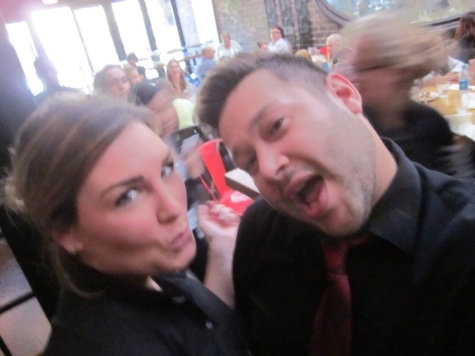 We were served paella, patatas bravas (spicy potatoes with tomato alioi), champiñones rellenos (spinach and manchego-stuffed mushrooms), queso de cabra al horno (goat cheese baked in tomato sauce), pincho de pollo y chorizo (skewered chicken and chorizo sausage) with bread drizzled with olive oil. For dessert we had natilla flan (natilla custard and saffron caramel).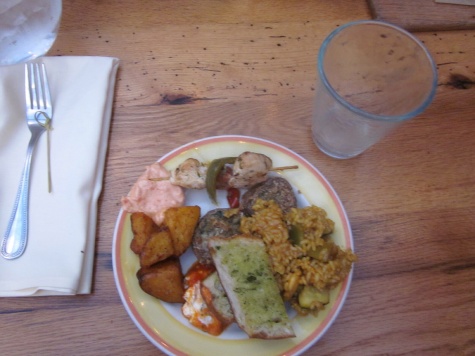 After that, most people napped on the way home back to Palatine. Upon arrival we were given the choice of either being able to leave entirely from school, or going back inside and finishing the rest of seventh and eighth period. I'm sure you can guess which nearly all people chose.
The trip isn't a mandatory part of these upper level Spanish classes, but it is rather fun, and a welcome break from the difficult days we're used to at school. It's one of the many perks of taking AP and 4.5 Spanish and I highly recommend it.