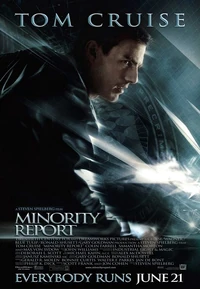 What does the future for humans entail? For characters in Steven Spielberg's film Minority Report, murderous criminals are arrested before they even commit their crime. In 2054, the respected Pre-Crime unit—designed to prevent crime in a time where it was at an all time high—used "Pre-cogs"(people with special abilities to see the future, all kept in a secluded pool-type room) to view and report crimes going to take place. The pre-crime unit is beneficial and helps save many lives, until John Anderton (played by Tom Cruise) the head of   the Precrime unit is falsely accused of a murder he never planned on committing. Going through his gripping journey to escape his nightmares of his son's abduction and his soon-to-be false imprisonment, Anderton makes decisions that will not only change the outcome of his life, but the outcomes of lives around him.
A scene that stuck out to me is the quick mall walkthrough scene with Anderton and precog Agatha. After liberating Agatha from the precog enclosure, she and him make their way through a mall avoiding the police. Through every movement and interaction, Agatha is able to predict what will happen. For example, she tells Anderton to stay in place and let the balloons cover them. Or when she told the random woman not to go home. The briefness of the scene and speed of the character movements stuck out as so spontaneous but so well choreographed. Agatha, weak and barely walking, is somehow showing more strength and power in the scene as she is able to predict and understand the situations around her. It plays in conjunction to the two characters, because while Anderton is physically stronger and literally carrying Agatha, she is still the mentally stronger character with her abilities.
I was told to watch this film with AI in mind, and while I can't necessarily make a direct connection between the film's problem and our modern problem of AI, I can understand the similarities between the two. The overall message is how technology will never make us more free, it will only constrict us to smaller and smaller stereotypes of what society should be like. It's always a mind boggle for me with technology films, because they always have and always will relate to modern society, even if the film was made over 20 years ago. Technology isn't society, it never adapts, it only advances.
Out of 4 stars, I rate Minority Report 3.19 stars.