On November 2nd, 2023, Palatine High School's "Mariachi Las Banderas De Palatine" hosted a concert on Dia de los Muertos, otherwise known as the Day of the Dead, a day in Mexico where people celebrate the memories of dead family and friends. The concert collaborated with Winston Campus Junior High and took place to raise money for the mariachi program.
 Three hours before the concert began, mariachi students and volunteers helped decorate the cafeteria with Día de los Muertos decorations. Papel picados, a form of traditional Mexican art, were draped above doorways and around the cafeteria. Black cloth covered many tables with candles and marigold flowers placed on them.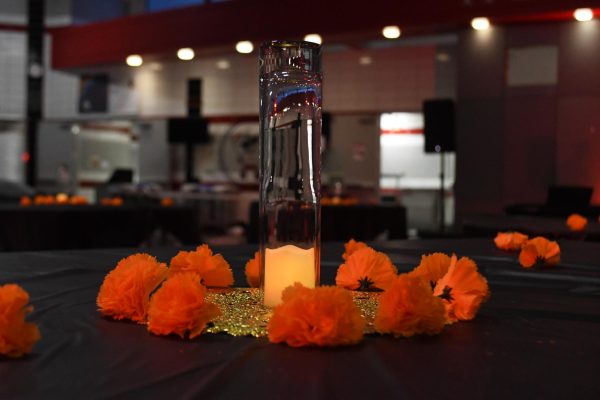 "I was a little bit stressed because we were kind of in a time crunch," guitarist Abril Lara said. "But we had a lot of members coming in with all of us and I think it turned out fine and it was really cool. And at the end of the day, it just felt like friends hanging out."
To raise money, different kinds of booths were set up across the cafeteria. At one booth, a college student volunteer face-painted skulls onto others. Another was a booth that sold donated baked goods. However, the booth that received the most attention was the table that raffled off multiple items. The items consisted of a mariachi shirt, two piñatas handmade by guitarrón player Jennifer Trejo Concepción, five gift cards, and an entire guitar with multiple guitar-related items.
At the beginning of the concert, Palatine's mariachi group played the song "Árboles de la Barranca" together with multiple guitar players from Winston Campus Junior High, an impressive feat for the middle schoolers because of a tight deadline they had to fulfill leading up to the concert.
The concert was extremely impressive to spectators because, even though it was the second large concert of the semester, the students played a total of 13 songs in a row and counted themselves off without a conductor. Not only that, but many of the songs were complex and relatively new to the students.
"I think a month or two was how long I practiced for this concert," said guitarist Lavender Garcia. "I remember I would practice until my fingers would really hurt until they turned red from all the blood rushing."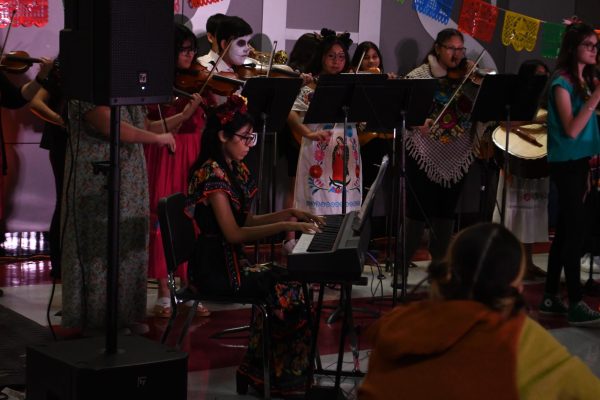 After the concert, some mariachi students admitted that they were a bit disappointed by the low number of people who attended the concert because of how many hours they sacrificed to practice for this concert. Still, there are many hopes that people will become interested in mariachi or watch Palatine's mariachi concerts.
"I see all these people going around, walking in the hallways, and they don't know that we have this amazing group of people performing right here and it's free," Stated Abril Laura. "Just being exposed to Mexican culture and hearing all these different sounds, I think it's amazing to get that experience."
The students that played in the concert consisted of:
Violins:
Jessica Aguilar Ramirez
Ana María Mondragon Carmona
Axel Bello
Alessandra Pucci
Brianna Téllez Hernandez 
Diocelyn Serna
Zaida Soriano
Trumpet: 
Alexis Porras Estrada
Guitarrón:
Jennifer Trejo Concepción
Vihuelas:
Crystal Fermin
Eros Gonzalez
Singers:
Betsy Vargas Trujillo
Evelyn Marin
Nahomi Sanchez 
Guitars: 
Abril Lara
Lavender Garcia
Alessandra Mireles
Piano:
Eliana Solis