What Pirates are doing this Thanksgiving break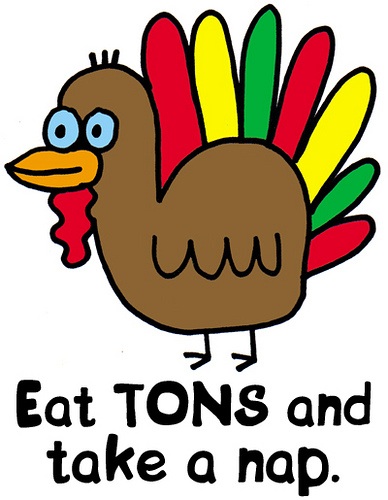 As we all joy our extended holiday weekend, many of us will be going to different places and doing a range of things. I asked a couple of Pirates around school what they would be doing this Thanksgiving and got quite a variety of responses. Check out their answers below!
Megan Shaler ('15): I'm going to my uncle's house in Chicago. I get to see my baby second cousin so I'm excited. Fun fact: My uncle lives three houses from where Obama used to live, and whenever they come back to visit, my uncle can't walk his dog past a certain point because there are secret service members around.
Grace Grana('15): I'm probably visiting my grandparents, but one of my college friends is also coming back to town tonight. I'll probably go see a movie and get Chinese. Black Friday shopping anyone?
Eric Weber('15): First, I am going to Ohio. Then we're going ice fishing–just regular fishing, but it's super cold outside. We're doing it with my grandparents, and we are having Thanksgiving with them. After that, we're going to Michigan to visit my other grandparents. Fun fact: I do not like ice fishing.
Carlito Ramos('15): I'm going to my grandma's house to cook, and my whole family will be there. It's going to be like the "Hunger Games" because everyone is going to fight for the best part of the turkey. Fun fact: I will be baking sweets.
Mrs. Meagher: I'll be playing in a football game as a wide receiver, and then having people over. Fun fact: I'm making roasted potatoes and sweet potatoes. I bake them like regular vegetables just with salt, pepper, and olive oil.
Dr. Garrison: I'm going down state to Fairbury, Illinois to eat with about 50 or 60 family members.
Mr. Schoub: I'm hosting Thanksgiving at my house, hence I did all the shopping. Turkey, and all sorts of things to go with, and pumpkin pie from Costco.
Dr. Garrison: Fun fact: I'd rather eat your house.
Keaton Silver('17): We're just ordering pizza. Fun fact: I'll be reading four books…" Life of Pi"…"Life of Pi"…Life of Pi"….
And what a lot of us will probably end up doing at some point or another:
Anusha Jayaprakash('17): Sleeping, watching Netflix.
No matter what you're doing, hope you have a great time!