Inside look at the girls swimming state meet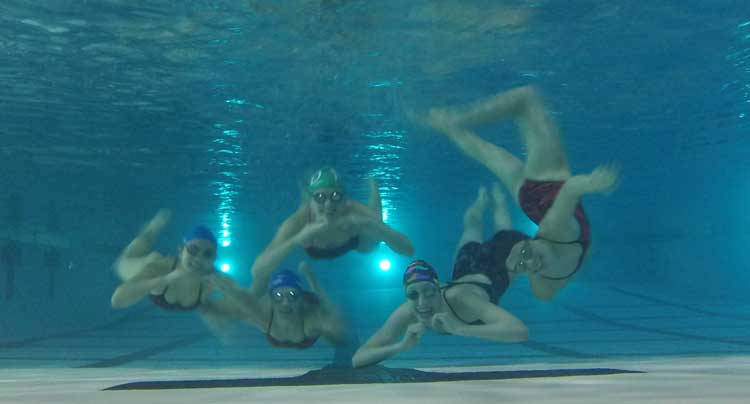 I stepped onto Evanston High School's packed pool deck while glancing back excitedly at my teammates. We had finally made it. Although it happened about two weeks ago, the girls' swimming and diving state meet is still fresh in my mind. After three months of intense training, I had the opportunity to compete in the meet on Nov. 21 along with my teammates Kristin Anderson, Lily Zahn, Kelsey Hank, Mathilde Mogensen, and Lizzie Johns. With the exception of Zahn, a senior, the rest of the state qualifiers are all juniors and hope to return to the meet next year along with more members of the team.
At sectionals, Anderson qualified for both the 50 and 100 yard freestyles and was seated to make finals in both events at state. In addition to this outstanding achievement, she won both of those events at sectionals and broke Stevenson's pool record for the 100 with a time of 51.37 seconds. Zahn was the only other swimmer on our team to qualify for an individual event- the 100 yard butterfly. In addition to these events, Zahn and Anderson joined Hank and me for the 200 freestyle relay. Mogensen provided much needed support as the relay's alternate and will hopefully be swimming her individual events next year at state.
This support from Mogensen and each other is what drove us all to success. Anderson says, "This team's constant positive energy and determination is what really put our championship season performances over the edge. State is one of those meets that you never forget, especially in my situation because I got to experience it twice so far, but this time was even better because I got to experience it with the girls I have been with since day one."
As Anderson had briefly mentioned, she and Zahn had already made it to this meet in previous years and were ready to compete with top-notch teams such as Loyola and New Trier once again. Meanwhile, it was my and Hank's first time swimming at this level and we were ecstatic for the opportunity. All of us went into the season with the goal of qualifying for state. Every practice, meet, and team building exercise was done with this goal in our minds. With this mindset, the support and hard work of our team, and the dedication of coaches Berleman, Lipniski, Kupka, Mitchell, and Bendell, we were able to achieve our objective.
Coach Berleman was one of the primary reasons for our success. She pushed us to our limits and believed in us more than we believed in ourselves. As much as we may have complained about the strenuous sets, we know that without her we wouldn't be where we are today. When asked about Berleman's effect on the team, Hank responded, "It was great having someone that was so dedicated to us and our team there for us each step of the way. She has been there to push us and support us and never fails to improve us as swimmers and as people."
With Berleman and the other coaches, we left for the meet with high hopes. Before the swimming portion of the meet started, Johns completed her diving and ended up placing several spots ahead of where she was seated. After only edging into a spot at state, she ended up placing in the top 30, a very impressive feat, especially in the highly competitive state of Illinois. Inspired from our teammate's success, we looked forward to the rest of the day.
Anderson was the first up to swim with the 50 freestyle. We packed onto the crowded pool deck to watch her get the second best time of her life and miss making finals by a mere six hundredths of a second. Being a seasoned swimmer, Anderson knew that she couldn't let this affect her following races and shook off the blow quickly. She bounced back and finished her 100 free with a smile on her face that makes me proud to call her my teammate.
Immediately before the 100 free was the butterfly. Zahn raced her hardest and though she didn't qualify for finals either, she finished her last individual event on the team with a time second to only that of her time from sectionals.
Lastly was the long-anticipated relay, a bittersweet event as it would be the last time Zahn would be competing alongside us. She was the starter, followed by Hank, myself, and then Anderson. With one final group pep talk, we walked up to the block and swam our hearts out. All of us left everything we had in the pool, but unfortunately we didn't get the times that we wanted.
Regardless of the times, I still believe that we performed at our best and I am so proud of my teammates. Not only the ones that made the state meet, but the rest of the team as well. Swimming becomes immensely more enjoyable with such a close team like the one we had this season. Mogensen agrees, saying, "The team atmosphere helped us get through hard sets. We were all really goofy but when it came down to it, we worked hard and encouraged each other. It really does help having your whole team supporting you through your hardest workouts."
Some of the best motivators on the team were our five varsity seniors. Described as "irreplaceable" by Anderson; Caroline Wojtas, Caitlin McHugh, Andrea Ori and Captains Jackie Kincannon and Zahn strived for success for both themselves and everyone else. They brought so much to our team and I know it goes for everyone when I say that they will be missed dearly.
As for the rest of us, we all worked as hard as possible to get to this level and I know that next year we can do even better. Last year, we sent two girls to state, this year we sent six, so watch out next year, Illinois!
About the Writer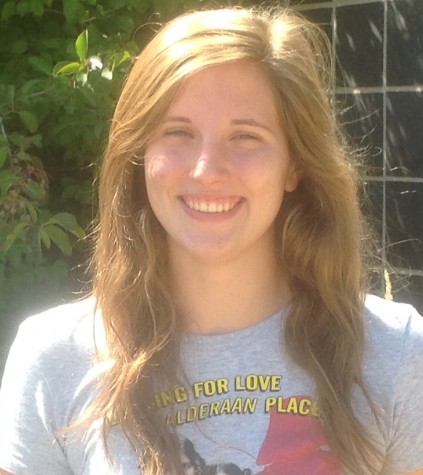 Tess O'Brien, Editor in Chief
Tess O'Brien is a senior at Palatine High School.  She became interested in possibly persuing journalism as a career after joining Cutlass in her sophomore...