Dancing with the Pirates
Come one, come all!
Come find who has risen to the challenge!
For the wait is over!
Dancing with the Pirates results are IN!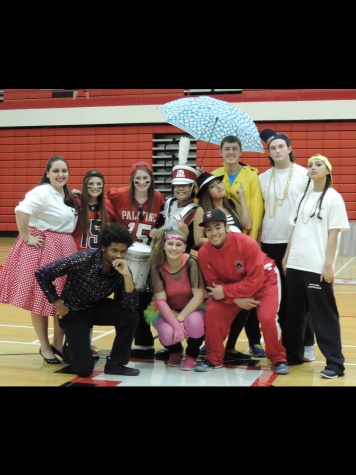 Dancing With The Pirates is when several seniors are offered the opportunity to choose a teacher to create a 2-3 minute long dance routine to preform in front of judges and anyone else who wishes to come watch in the gymnasium. The entree fee is $5 and goes toward funding for the senior gift to PHS when they graduate.
Senior Latrell Crowder and Mrs. Toni Madl from Family and Consumer Science started of the dancing with a Disco themed set. Latrell busted some techno moves with a rhinestone-sparkley black shirt while Mrs. Madi rocked it with a full on matching black sparkley bellbottem onsie.
Next up, dressed up as a part of the PHS drumline, was senior Jerimiah de la Pena and Mrs. Kristina Stary also from Family and Consumer Sciences, incorporating the use of their drum and cymbals with their dance.
After we had one of the most anticipated dances of the evening, consisting of seniors Gabby Heidrich and Tom Heskin and Mr. Thomas Miller from the Science department, performing a swaggy science sort of throwdown dance.
Following them was an impressive routine performed by senior Joey Labeck and Mrs. Jessica Medina from the Special Education department, delightfully combining "Singing in the Rain", "Umbrella", and "It's Raining Men".
Coming up after was senior Emily LaSusa and Mrs. Amanda Lipnisky from the English department, taking us back to the fifties with a both sassy and classy routine, and not only that but they also danced heels.
Senior Amanda Muck and Mr. Jason Kurey from Drivers Education were unfortunately unable to compete due to Amanda unfortunately being sick
Rising to the challenge, Cole Nelson and Mrs. Brooke Arvia from the Math department broke out some moves in sleek looking sweatsuits.
Bringing the eighties back were senior Andrea Ori and Counselor Mrs. Michelle Calish with their adorable poofy hairstyles and tutus.
Following we're senior Diana Quintero and Mr. Kevin Graham from the Special Education Department, crushing it with a Justin Timberlake "Suit-n Tie" inspired routine.
Wrapping up the show were seniors Caitlin Riedy and Cece Walczynski with Principal Mr. Gary Steiger himself, all dressed up in the PHS football uniforms, dancing along to some favorites, like the "Cha-Cha Slide".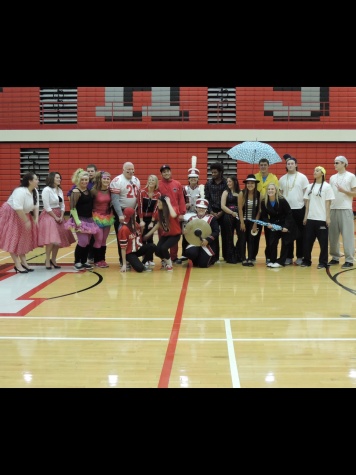 RESULTS:
Best costume of the night was won by: Latrell Crowder and Mrs. Madl
Best technique was won by: Cole Nelson and Mrs. Arvia
Best teamwork was won by: Andrea Ori and Mrs. Calish
Most creativity was won by: Joey Labeck and Mrs. Medinah
Coming in third place for their dance was Andrea Ori and Mrs. Calish.
Sliding into second place was Cece Walczynski, Catilin Riedy, and Mr. Steiger.
And claiming the first place prize for PHS Dancing with the Pirates 2014 was Joey Labeck and Mrs. Medinah.
The hosts for the night of Thursday, December 11th started off with Christopher Ketelson who was later joined by Katie Hake, coming from a Midnight Blues gig.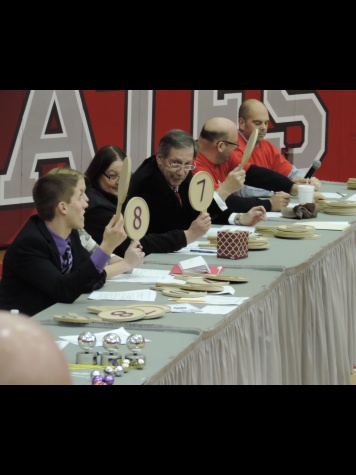 Judges for the night consisted of students Ben Bosco and Annie Van Grondelle as well as PHS staff Mr. Michael Alther, Mrs. Green, Mr. Halpern, and Mr. Fisher-Rhode.