Pirates adopt angels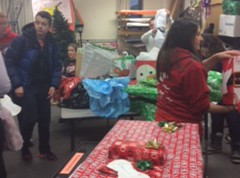 PHS student council has offered one of the biggest opportunity of giving this Holiday season. With Adopt an Angel, students here at PHS have donated toys to kids that are less fortunate than us, kids that may not be able to afford the things we have. But this holiday season has changed that with help from some wonderful students, the student council, and the head director of this program, Karisa Andrianopoulos.
President of student council, Kiera Gavin states, "this is a great program", and that she's very happy about PHS being able to run it.
"It's a great way for people to get involved in the community and donate to the less fortunate kids." Gavin says that just around 250 kids have received donations, which is an outstanding amount of children that are now able to have better fortunate holidays. Gavin says, "I'd love for this program to go on every year".
We haven't gotten help for this program just from the student council, but a homeroom also. Jeffery Leathem and Liz Sheehan's homeroom have contributed in this program, by having their homeroom donate. Sheehan, says it's great to have opportunities to give to the community. Their homeroom has done it for a few years now and Sheehan knows for sure that they'll want to do it again next year. "I think it's a great way to bond towards a goal together with other people," states Sheehan.
Grace Huff and Sam Greenspan are two students from Leathem's and Sheehan's homeroom. Huff thought it was a cool program and she thought it was a great opportunity to help out, while Greenspan said it felt good to give. Huff donated $20, while Greenspan has donated hello kitty toys, remote-controlled cars, and a hello kitty easy bake cookie oven. He wanted to help kids that are less fortunate, and don't have the things that we do.
Even though Adopt an Angel is over with this year, anybody can contribute again next year.