Nick Oswald on varsity lacrosse
Hang on for a minute...we're trying to find some more stories you might like.
Thoughts swirl through Nick Oswald's head, as he thinks of ways to stop the opposing team from scoring a goal, and making sure he doesn't make any mistakes. The ball then swings at him, the crowd cheers him on as he catches the ball in the pocket of his lacrosse stick.
Devoted lacrosse player Oswald made the PHS varsity team as a freshmen, continuing to play his favorite sport since he started out about five years ago.
"In fourth grade, a man from True Lacrosse came to my school and talked to us about lacrosse," Oswald said. "I got interested in the sport and when I went home that day, I asked my mom to let me play. I then started playing that spring of fourth grade."
"I started off with playing on a club team called Palatine Spartans," Oswald said. "I played on the Spartans for about a year. Then for my second year of playing, they were taken over by Lacrosse America, which was a nationwide organization. The next year, Lacrosse America broke away and became a club team again, called Palatine Penguins. I got to play on the Palatine Penguins for sixth, seventh, and eight grade."
"The program has really been growing," Oswald said. "When I was first on the Palatine Spartans, they only had 29 kids. And now, the Palatine Penguins have over 400 kids of all ages."
"I started by playing offense, but around sixth grade I moved to goalie," Oswald said. "I still play offense and have on-off season club teams. I also go to many local and out of state camps to work on both goalie and attack."
Being one out of the four freshmen on the team, and having approximately 23-24 athletes on the team, Oswald didn't know what to expect before he was given the position of goalie."I wasn't sure if I was going to make varsity," Oswald said. "But when coach told me I did, I was really excited to know that I would be able to play at a higher level and improve with a great group of people."
"We have a great team moral," Oswald said. "Our team works really well together, and all the guys and coaches are really great to be around."
Oswald always has his head in the game, even before he's on the field.
"Before a game, I always think of ways to fix previous mistakes before I get on the field again," Oswald said. "You never know what to expect during a game, but once I'm on the field, I also think of ways to improve right off the bat."
"We have practices everyday except Sunday's, and an average of about two games per week," Oswald said. But Oswald's love for lacrosse motivates him to play as much as he can. "We have unofficial practices on Sunday's where most of the team and I go to the turf and practice."
"My favorite parts of summer are playing against friends and going to camps where I stay over the course of a week at a college and play for 10 hours a day," Oswald said. "Ever since fourth grade lacrosse has been a huge part of my life. I've met many of my best friends in lacrosse."
"During the summer my friends and I play scrimmage with each other as much as we can," Oswald said. "We always push each other to get better and better."
"I'd definitely want to play lacrosse the rest of high school," Oswald said. "And I would love to play in college, but I'm not sure yet. I want to focus on high school for now."
Nick Oswald is always making sure he's playing with his full effort, and he couldn't be more happy to be on the PHS varsity lacrosse team.

About the Writer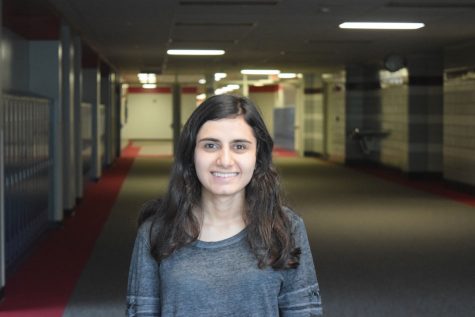 Fidan Malikova, Features Editor
Fidan loves playing the piano, tennis, and of course writing. She loves writing about journalism, fiction, and even poetry. This is her fourth year being...