Malone's "Stoney" is a smashing success
Hang on for a minute...we're trying to find some more stories you might like.
The success of "Stoney" Post Malone is a name that tends to evoke a strong reaction from people. He is viewed in many different lights whether it be internet memes, H3H3 YouTube videos or Justin Bieber's Purpose tour. However, numbers do not lie. As of December 2016, Malone's newest album Stoney has gone platinum.
His album tends to be associated with southern hip-hop due to its featuring of fellow hip hop artists Kehlani, Quavo and 2 Chainz. Despite this generalization, the album has a vast variety of sounds that distinctively separate it from any album like it. Songs, such as "Feeling Whitney" help to show Malone's wide ranging vocal skills. A rather intimate song, which features an acoustic guitar and Malone's isolated voice. The isolation allows for the listener to focus more on the lyrics, which discusses Malone's drug and alcohol use. This abuse, he implies, inevitably lead to him secluding himself and increasing his anxiety.
The song's meaning in particular could be described as one that places Malone in a vulnerable spot. The genuine rawness of this song, also helps to better connect the listeners with Malone which overall improve a song's quality. Raw and real tends to be a reoccurring theme throughout the album.
The album also provides an enjoyable listening experience for those in all moods. It's vast range of instruments helped to convey very specific tones for each song,  whether it's "I fall apart" which provide a more depressing tone as we watch Malone struggle through a failed relationship, or "Congratulations" where we see a more upbeat Malone describe the struggles necessary to get to where he is today. This blend of tones help create Malone's unique sound which is appealing to all demographics. His ability to build off of his own music is a talent that should not go unnoticed.
It is clear to see that this new up and coming artist is here to stay. After the smashing success that was Stoney, Malone recently put out a new single entitled "Rockstar" ft. 21 savage, which hints that a new project is on the horizon. So we say to Post, congratulations for the work of art that was Stoney, and we look forward to new albums in the future.

About the Writer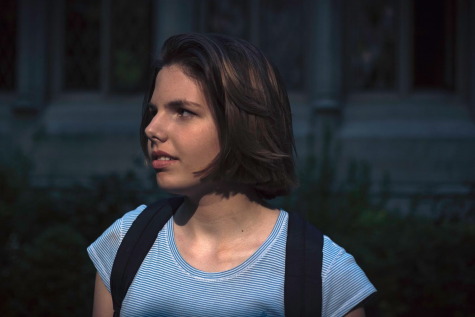 Sam Imlay, Reporter
Sam Imlay is a junior at Palatine High school. She enjoys writing and hopes one day to publish a novel. Her dream school is U of I Champaign-Urbana with...