Dance show brings everyone together
Hang on for a minute...we're trying to find some more stories you might like.
Dance Show happens once a year, and showcases all different kinds of dancers who come together to extend their craft with the community.
"I dance because I enjoy the creative process when working on new pieces and the challenge of using my body to convey messages," senior Stephanie Bender said. Bender has been apart of Orchesis and Dance Show since her sophomore year. She also choreographs alongside Company Orchesis coach Krystal Coleman and junior Pargol Azadeh. She also creates additional pieces, which include her own solo.
"The time commitment can be challenging," Bender said. "When you're in the moment you don't realize how much time is spent preparing for the show. Then you go home and realize the other things you have to do and it can be overwhelming."
Azadeh is in 7 different dance numbers for the show, and has a touching connection with one piece in specific. Dance N' Attitude (DNA), the other dance team Azadeh is apart of, is portraying a piece in honor of the hurricanes that have recently taken place.
"It is about all of the hurricanes that have happened," Azadeh said. "I represent one of the victims, and I come out to start the story with movements and emotions. We have the other half of the team portraying victims and helping us. The main point of the song is when Michael Jackson says, 'what about us?' It represents the people in all of the disasters screaming for help; for us to start taking action. We are trying to raise awareness for this, and it's perfect because the dance show theme this year is seasons."
Due to the versatile theme, Bender is very passionate about the piece she partnered with Azadeh for, that is performed to "Numb and Getting Colder" by Flume.
Bender found this song selection fitting because, "winter is cold and if you're outside too long you go numb."
Traditionally, Orchesis dances to lyrical, modern, and contemporary styles of dance. However, the dance number to "Numb and Getting Colder" wasn't like the other dances Orchesis has done.
"The dance is meant to challenge the normal choreography people would expect from us," said Bender.
"Dance show is a unique experience and every person involved in the show becomes so close whether they're the dancers, directors, managers, or tech crew," Bender said.
"The dance show cast becomes one big happy family and we support each other no matter what, so it would be nice to have more people to support," Azadeh said.

About the Writer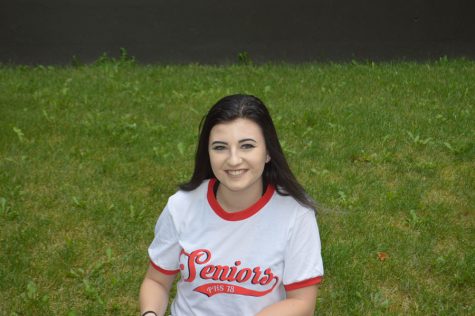 Tiffany Steigerwald, Reporter
Tiffany Steigerwald is a dancer and writer that is interested in expanding her knowledge on journalism. After high school, she hopes to continue dancing...