The PHS marching band gears up for another season
In the past week, the Palatine High School marching band has collectively devoted around 912 hours to marching, cleaning, and playing this year's halftime show. The band put in work on the football field every day from one p.m. to nine p.m. They learned haces, studied drill sheets, and almost didn't survive drill number two.
Spending a week at a camp of their own, these drum majors were prepared. For two of them, Lisa Kehe and Colin White (15),  this would be their first time calling the shots. While major Ashley Shepard (15) was already a seasoned pro, having one year under her belt.
"At first, I was nervous because I've never been in a leadership position on such a big scale, involving so many people. But leadership is important to me and comes fairly naturally. Also, I'm good friends with both my co-drum majors and trust our directors. I'm not in this alone!" Drum major Kehe said when taking on the responsibility of 100 band members.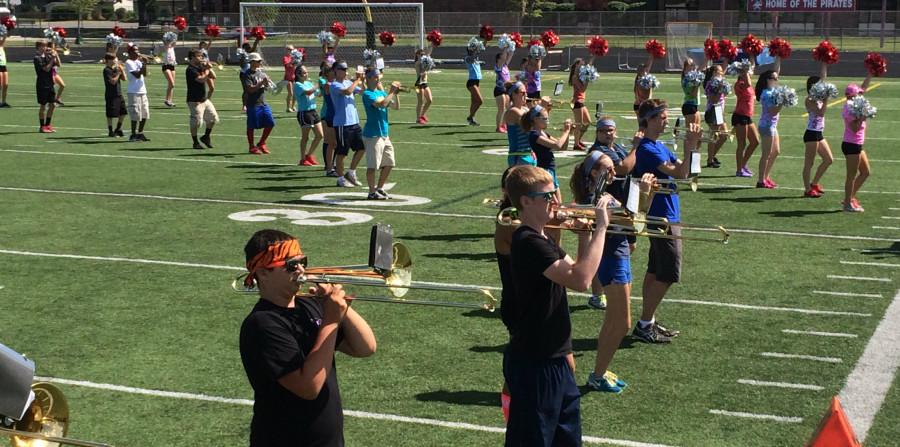 While the drum majors lead the show, they certainly can't do everything. This year, they had an amazing crew of directors to back them up. This crew included Carlos Esquivel  Joe LaPalomento, Kyle Cauthorn and volunteer Carlos Burger. Even though it was only his second year directing the Palatine High School band, Esquivel and his band interact like they have known each other for years; they joke and do core workouts together, yet they're all still able to get down to business when they need to. The band is definitely receptive to both Mr.Esquivel and Mr.Cauthorn's friendly demeanors.
"Mr.Esquivel and Mr.Cauthorn are awesome directors. The band is really lucky to have them. They care so much about the band program and put so much time, effort, and heart into it. We all appreciate everything they do for us." Drum major White said.
With a rough, rainy start members were worried about if the band could pull it together in the time they had left. With new drills– including a terrifying pinwheel section on drill two– and new members to teach, the band had their work cut out for them. But the next four days were all sunshine, both literally and metaphorically. The band pulled it together, and performed their three song halftime show for friends and family Friday night.
"[It went] Really well for after a week of band camp. I know everyone was nervous so there were some mistakes, but there were also a lot of things that looked so much better than before." When asked how she thought the preview show went, senior Maddie Mathias said.
"Band camp went pretty smoothly this year I think." Senior Shannon Hickey, a band camp veteran, said. "We did work and got everything done, and by Friday we were able to have a preview show of our halftime this year. Drills were a lot harder than normal but it's really cool to see the formations and the challenge of it was great."
On Friday, Aug. 22,  people will see the product of 912 collective hours of work while also hearing the sweet melodies of Billy Joel during the halftime show at the Red & White game.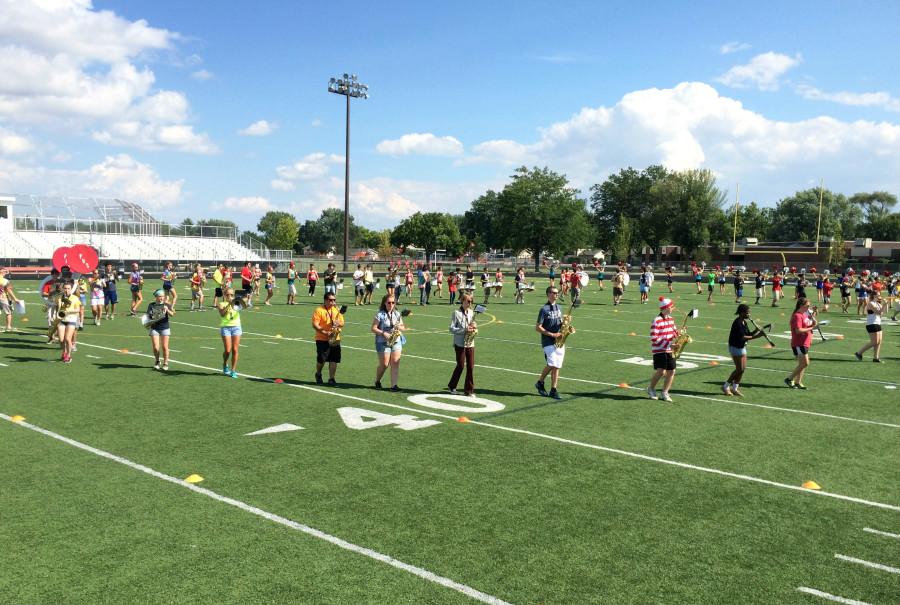 Leave a Comment
About the Contributor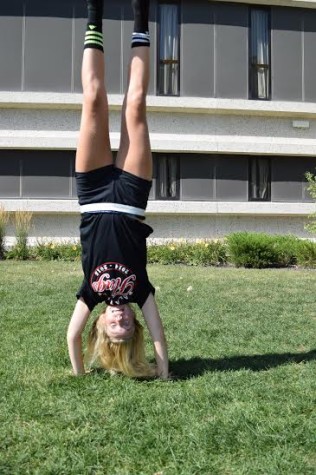 MaryRose Weatherton, Sports/Twitter Editor
MaryRose is a senior at PHS.