Burianova dives in to US swimming
The Pirates girls swim team had another great season this year.  This season was a little different though, as the varsity team now had an exchange student on the roster.
The team welcomed senior Katerina Burianova, from the Czech Republic, with open arms. Burianova comes from a family of swimmers and has been swimming since she was six years old.  
She was picked to come to Palatine through Northwest exchange program. Her parents thought it would be a great idea for her to participate in the program allowing her to expand her use of English and her overall experience around the world. Once they found a family and a high school for her to attend, she jumped on a plane and traveled halfway around the world. Burianova will be here for the rest of the school year and will then return back to her family in the summer.
Burianova had a great season, winning the 50 free style in this year's sectionals.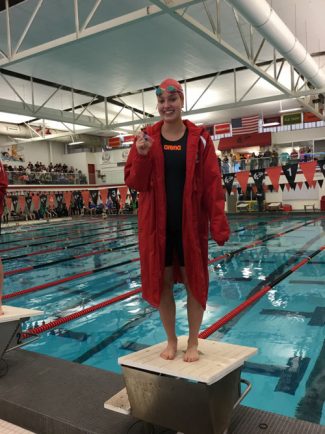 Swimming was one of the top things that she wanted to take part in when she realized she was coming to Palatine. And although the swim practices were both longer and a little bit harder than the ones back home, she  loved every minute of it. She swam at State, and while it  was stressful, she stated, "I have great teammates and a great coach. It was fun."
When asked if she is enjoying Palatine outside of swimming, Burianova explained, "Yes I am. It's kind of hard because I miss my family and friends, but I enjoy it. It has been a great experience." She says that her favorite part about Palatine is the people, "because they are really nice and help me when I need it."
Burianova made it through the first half of the year swimmingly and is looking forward to the rest of the school year.