"Perfect" captivates audiences
Hang on for a minute...we're trying to find some more stories you might like.
"Perfect" is a romantic song that will make you melt and think of a person you love dearly.
It has that swaying effect that makes a person flow smoothly to the right and left, gracefully allowing their head to follow with the rhythm. It's a song full of so much passion and love. As I would describe it, it gives you the similar feeling of embracing the one person in life who makes you the happiest.
This holiday season, fans were struck yet again with another heart aching song by Ed Sheeran. Known for his smooth, rhythmic love songs, he came out with "Perfect." The song soon went viral, playing on radio stations everywhere and making it on the top 2017 hits.
The song is captivative right at the first verse: "I found a love for me".
Sheeran proceeds,"Darlin' just dive right in and follow my lead".
It starts out so strong and deep that you feel the need to keep listening.
The song is primarily meant for young love, which is confirmed when Sheeran sings, "We were just kids when we fell in love, not knowing what it was."
After building up his listeners with such heart aching lyrics, the chorus is triumphed with an inspiring beat as Sheeran sings, "Baby I'm dancing in the dark, with you between my arms. Barefoot on the grass listening to our favorite song. When you said you looked a mess, I whispered underneath my breath, you heard it. Darlin' you look perfect tonight."
For teenagers who claim to be in love, the song is relatable to them. It was released during the holiday season which is generally a time when people are experiencing intense emotions of love from family members, friends, or loved ones.
"I was feeling a lot of love," Palatine Senior, Ally Quesada said. "The song is very romantic; very sweet. It's like directed to the audience for you to feel a lot of emotions."
Being in a relationship myself, the song really hit me. My boyfriend is a Marine so we do not always see each other. This song spoke to me because it perfectly displayed my emotions. The saying holds to be true that music really speaks to people.
"It made me think of my girlfriend and all our memorable moments," Andres Rosiles said. "It kind of made me sad but in a way that makes you realize just how much you love a person."
Whether it's a loved one from the military coming home for Christmas, or a happy couple spending this sacred time together, this song is perfect background music.

About the Writer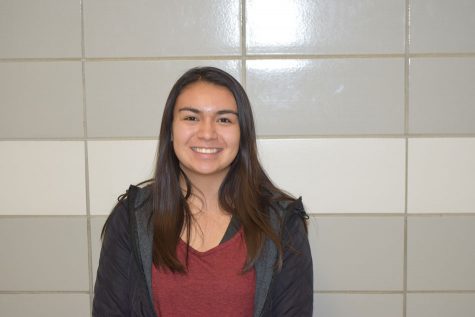 Alexandra Ramirez, Reporter
Alexandra Ramirez is a senior at Palatine High school. She is the youngest child out of three in her family. Her favorite hobbies are running and weight...