Why cheerleading shouldn't be disregarded as a sport
Hang on for a minute...we're trying to find some more stories you might like.
Generally, when people think cheerleader they think: shouting "go team" on the sidelines, pom poms, big glitter bow wearing, floozy, self-involved, and mean girls.
Cheerleaders are dedicated athletes who work hard to maintain a positive, spirited attitude, even after rigorous training and practice.
Ally Christopher has been cheerleading most of her life and made Varsity cheer as a freshman at Palatine High School.
"Our coaches push us very hard and expect a lot out of us," Christopher said. "But we work really hard in practice to achieve our biggest goal which is to go to state."
Competitive cheerleading is a sport in the Illinois High School Association.
During cheer season, Palatine cheerleaders practice during the week and on weekends to accomplish their goal.
Sectionals are at the end of January and State Finals are in the beginning of February. They compete at different competitions during winter to try to perform a perfect routine to get a bid to State.
According to the University of Florida's news website, Bekah Rammos, coach of the University of Florida Competitive Cheerleading team, said, "Any sport has inherited risks, but cheerleading can be dangerous because many athletes try to progress too fast before they are ready."
The definition of a sport, according to The Women's Sports Foundation, is it must be a physical activity which involves overcoming the resistance of mass, competing against an opponent, and governed by rules that define the requirements under which a winner is declared.
The Women's Sports Foundation makes it clear that any physical activity that could be judged could be developed into a competitive sport as long as it includes the defined elements and the main purpose is competition versus other teams within a competition structure.
Cheerleading has definitely evolved over the years to be what it is today, and there's different types of the sport, but all have the elements used to define a sport.
"
Cheerleaders are dedicated athletes who work hard to maintain a positive, spirited attitude, even after rigorous training and practice."
The different types are sideline, school-sponsored, college, youth, all-star, rec, and professional. In 2016, The International Olympic Committee voted to recognize cheerleading as a sport.
According to The Odyssey, a male cheerleader from CU boulder said, "I initially joined cheer as a joke. I had wrestled all my life and I can honestly say that Cheerleading is by far the hardest sport that I've ever done. It's incredible how much upper body strength some of the stunts really do need. I now have cheered for over 7 years and I will never go back to anything else."
Training is a huge time commitment. Most teams practice at least five days during a week for over two hours, cheer at games, and compete on weekends.
Also, most teams require attending mandatory camps, clinics, and choreography.
During practice cheerleaders condition and work on jumps, dance motions, chants, tumbling, and stunts, and flexibility. Training requires endurance and cardio to perform a perfect routine and finish strong. Facials, positive energy, and voice projection are important too.
A competition routine cannot be longer than 2 minutes and 30 seconds; it must follow guidelines.
During competition, the smallest mistake could result in a deduction. Many people think cheerleading is easy because routines are short, but it takes a lot of hardwork and effort to hit every stunt, have sharp motions, land every tumbling pass, impress the judges, and more all while radiating confidence and keeping a smile the whole time to make it look easy.
As you can see, cheerleading meets all athletic specifications, and is considered one of the most dangerous and difficult sports in the U.S.
Cheerleaders learn more skills than what they put out on the sidelines and mat.
Palatine High School cheerleaders compete as a team, not as an individual, while pushing each other to become better and win or lose as a team no matter what happens.
If you're interested in supporting Palatine High School, come cheer on Varsity and JV this winter at competitions held at local high schools.

About the Writer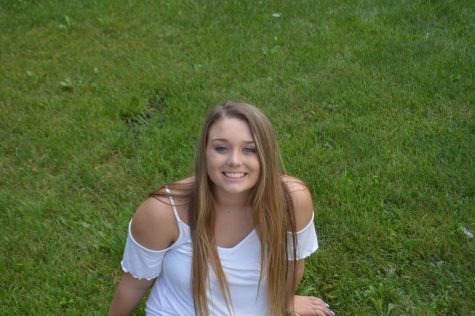 Mariana Fronimos, Reporter
Mariana Fronimos is an amazing girl that is excited to be in this class. She is a cheerleader, played the piano, and is a very passionate writer. Fronimos...