Pirates lose a tough home opener
After a rainy Friday night, the Palatine Pirates were back again Saturday morning to face off against the Libertyville Wildcats. Even though it was early, parents and fans were very much awake; they argued practically every call the referees made and cheered almost as loud as cheerleaders would have. When asked, fans were definitely upset about last night's delay; but for the safety of all the fans and players the calling the game off was the safest option.
"[It's] hideous that they called the game off, unfair to the kids. Shame on whoever controls that, it was a bad call. I think asking those kids to get together all the emotional, physical, and mental preparedness that it takes to play a game, let alone your home opener; and then to call it off, that's ridiculous." A parent in the stands said Saturday morning.
The game picked up right where it left off Friday night, 27-17 Wildcats, and Palatine was determined to change that. The Pirates struck first, with Cervenka making a diving catch on to the Wildcat one yard line; just shy of a goal. The next play, Cornelius ran it in for a Pirate touchdown, making the score 27-24 Wildcats. The fans went wild, even standing up to sing the Pirate fight song. To finish out the 3rd quarter, Wildcats number 5, Ferraro, wound his way through a tired looking Pirate defense to bring the score to 34-24 Libertyville.
Orlando and his receivers were hit and miss all day, they either made huge gains on the play or they couldn't connect, resulting in an incomplete pass. Most notably, with 8 minutes left in the game when Orlando threw a pass that was intercepted on the Wildcat 49 yard line. It looked like all of the Pirate momentum was out the window; but 3 minutes later Stricker ran in the ball for another Pirate touchdown. With another Wildcat score with one minute left, the game was over. Final score 41-31 Wildcats.
When asked how he thought his team did Saturday morning, even considering their overnight delay, Coach Splitt was proud, "Weather is weather. It doesn't help a football game to come and play again. They came out with a great attitude, and I'm proud. We made a lot of mistakes but we'll get better."
When asked about their loss Saturday, Senior Waylan Washington said, "After playing the second half yesterday, it felt like we had lost twice. It feels we are 0-2. It was a tough loss, it left a bitter taste in everyone's mouth. But the seniors are hungry to come out this Friday and give our fans a win."
The team will reflect on their mistakes and hopefully come back next game with high hopes. This Friday, Palatine will face off against Rolling Meadows at home. Kick off will be at 7:30 p.m. Come out and support your Pirates.
Leave a Comment
About the Contributor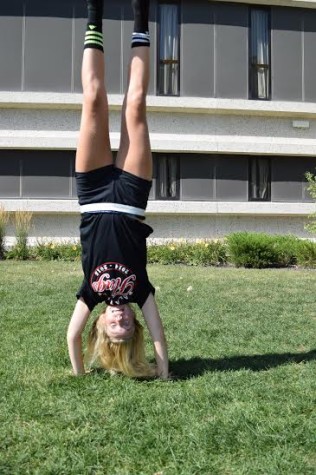 MaryRose Weatherton, Sports/Twitter Editor
MaryRose is a senior at PHS.