Palatine hosts journalism sectionals
Hang on for a minute...we're trying to find some more stories you might like.
Aspiring writers, editors, designers, and etc. kicked off the newsy spirit with the IHSA Journalism sectionals. The event occurred on Saturday, April 21 and individual  students competed in different categories from News Writing to Photo Story Telling to Yearbook Layout.
Sonakshi, sophomore at Wakaunda High School, competed in the Review Writing section.
"I was a little nervous, it was definitely better than last year," Sonakshi explained. The review writers listened to some jazz music and then wrote an article about it in under 90 minutes.
Twelve schools participated in sectionals at Palatine High School, hosted by newspaper adviser, Sean Berleman. Six journalism sectionals ran throughout the state of Illinois.
 "Yea. We (partner) had a lot of ideas," Anna Smaone, junior at Buffalo Grove high school said. "Everyone was really sweet and let us use their (other competitors) tools."
Smaone competed for Yearbook Theme Development with her partner, Tippara Ju. Ju and Smaone felt really confident about their creation, because they came with well thought out ideas.
 After the first session, the teams were treated with some Pizza Bella pizza, cookies and sandwiches. Everybody was able to share their experiences with each other. Some arrived energetic while others arrived tired. After a couple of minutes it was time for the second part of competitions to begin.
  A total of 14 Palatine students competed in different categories. Partners Hope Koenig and Kacper Drwenski competed in the Yearbook Theme Development category.
Drwenski and Koenig admitted that they finished their project early and they wished they brought in a pencil. Still they felt confident in their work and knew that they did the best they could.
   The following students placed for PHS: Nicole Wagner ('18) in fourth place for Broadcast News, Haley Holz ('19) in sixth place for Headline Writing, Fidan Malikova ('19) in sixth place for Yearbook Writing. Kacper Drwenski ('19) in sixth place for Yearbook Layout Double Page Spread.
 Two Palatine students qualified for state. Caroline Philbin ('19) in second place for Sports Writing and Monika Juras ('18) in second place for Yearbook Caption Writing. They'll be competing at State at Eastern Illinois University on April 27.  

About the Photographer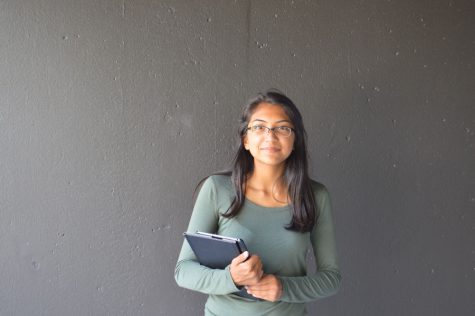 Crystal Castellanos, Reporter
Crystal Castellanos is a senior who's hoping to go into teaching 5th or 6th graders. She likes classical music and reading and wishes she could meet her ...