Students should be involved in clubs at PHS
Hang on for a minute...we're trying to find some more stories you might like.
Getting involved as a freshman here at Palatine High School can turn a decent high school experience into a great one filled with different opportunities.
Initially, joining new clubs and sports may seem intimidating for many reasons, such as, overthinking about whether or not you believe you're good enough to join or if you're going to be able to make new friends. Getting involved isn't something you should be afraid of. Instead, it is something to look forward to and something that is beneficial to students.
Joining one of the many programs Palatine has to offer is an amazing way to make new friends, find new skills/hobbies, help the community, and grow as a student and as a person.
If you're an athlete, there are plenty of sports in the Fall, Winter, and Spring. There are even intramural sports to choose from. If sports aren't necessarily your thing, there is a wide variety of clubs for you too choose from and get involved in.
For example, theater could possibly be your passion and that might encourage you to sign up for the school play. You could also be interested in computers and want to join computer club. Even new opportunities such as ASL club are offered at PHS. There are endless options and opportunities for students to choose from.
In an attempt to see what students are involved in at PHS, I went around the hallways and asked freshman students some questions about the activities they're participating in.
Patrick McClanahan, Cross Country Runner.
Cutlass: What is your favorite part about running cross country at Palatine?
Patrick: My favorite part about it is the team. We all ride and die for each other and we are just one big family.
Cutlass: Would you recommend this to other freshmen to help them get involved in activities and sports here at Palatine?
Patrick: Absolutely, it's amazing.
Basel Hanna,  Football Player.
Cutlass: What is your favorite part about playing football at Palatine?
Basel: I love getting mentored by the coaches, and I also love the thrill and huge adrenaline rush that you get when you make a huge play.
Cutlass: Are you glad you chose to try out for football?
Basel: Yes, I love it.
Katie Christopher, Tennis Player, Freshman Club Member
Cutlass: What is your favorite part about playing tennis at Palatine?
Katie: I really like the social part of it. I've made new good friends and I love getting out and being active.
Cutlass: Would you recommend other freshmen who are not currently involved to get involved?
Katie: Yes, of course!
Meredith Kendall, Volleyball Player
Cutlass: What is your favorite part about playing volleyball here at Palatine?
Meredith: I love my teammates and how we have progressed so much already. Also, I love all the support from the other PHS sports teams.
Cutlass: Are you glad you are playing volleyball at Palatine
Meredith: Yes, I'm so glad I decided to play.
Olivia Riley, Best Buddies
Cutlass: How is Best Buddies going for you so far?
Olivia: So far, it's really great. I've met a lot of new people, and I'm really excited to see what we are going to do this year.
Cutlass: Will you be signing up for any other sports or clubs at Palatine this year?
Olivia: Yes, I will be playing basketball in the Winter and soccer in the Spring.
Now that you've heard the amazing input first hand from those who are involved here at Palatine, it's time for you to get involved and make the most out of your four years at Palatine by clicking here!

About the Writer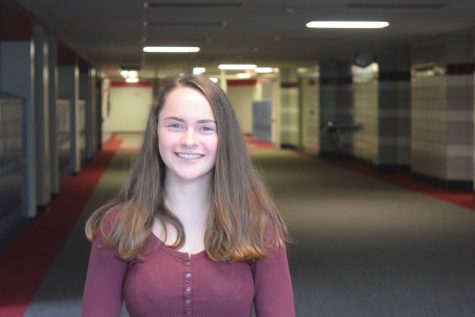 Amelia Donlin, Reporter
Amelia Donlin is currently a freshman here at Palatine. She enjoys writing, playing basketball, running track, and hanging out with friends. This is her...