Why I'm willing to fly halfway across the world for pizza
Hang on for a minute...we're trying to find some more stories you might like.
Better known as the producer, writer, and creator of Everybody Loves Raymond, Phil Rosenthal's latest masterpiece, Somebody Feed Phil, is getting attention from foodies, travel connoisseurs, and Netflix-lovers across America.
The premise of the show is simple: Phil and his team travel to a major city known for their amazing cuisine, and then they find the best places to eat in that city and produce a show about it. Some of their episodes include Bangkok, Copenhagen, New York City, Lisbon, and Buenos Aires, and after each episode I'm either salivating or starving, or both.
"This sounds like something you could read in a travel book."
Except that it's not. Not even close. It's quite possibly Phil's character that makes the show so special and engaging, and the fact that the cinematography is amazing doesn't hurt either.
Phil is hysterical. He's like that quirky dad that everyone loves and is constantly exuding excitement and happiness. The other crucial aspect that makes Phil so fun to watch is that he's relatable and humble.
He's the successful producer and creator of multiple tv shows, is on Netflix, has done interviews with comedians like Jimmy Kimmel (I love this one), and gets to travel the world for a living by eating the best food he can find, but he isn't a snob. It's impressive, but so effortless that you wouldn't even notice until you read his bio.
He's a pretty cool guy, but it's not like watching the Kardashians. People can relate to Phil. At the end of every episode he shows a Skype call with his 90 year-old parents who are about as stubborn (and consequently hysterical) as they come. But it's perfect and people love it, because they can see their own parents acting the exact same way.
And, when Phil takes a huge bite of a cheese dripping, garlicky, hot piece of Argentinian pizza from a little homey restaurant in Buenos Aires, it's just as, maybe even more, enjoyable as watching him eat at a 5 star restaurant that charges $200 a plate. We can all see ourselves eating that pizza, and that's how Phil uses food to connect to his audience.
He doesn't just show the world's most exotic and wallet-wrecking, prim and proper dining venues, he shows you the things we all want to eat, even in the most unassuming places.
Phil has taken the social hierarchy out of foodie-ism, and made anyone with access to the internet and a Netflix subscription 100% ready to get on a plane and get to where Phil's been. Personally, I'm quite determined to get that Argentinian pizza from La Mezzetta, as well as a giant scoop of 9am ice cream (Vietnamese coffee with donut truffles) from Ice and Vice, a shop in New York that sells outrageous flavors and amazing combinations.
Phil sees food in a way that most humans cannot, and I think that's what's most inspiring about his show. He sees it as a way to connect, to love, to experience, and to travel. In his interview with Jimmy Kimmel, he talks about how his ultimate goal of the show was to inspire people to travel the world.
He personally was unexposed to great food growing up (he frequently references his mother's terrible cooking), which seems crazy considering he lived in New York City, practically the heart of food culture, but then he explains that he never had garlic until he was an adult. He had no idea that pasta sauce could taste so amazing until it did, and he's been finding more amazing flavors ever since.
Another great element of the show is that you get to see gorgeous cities, and the relationships that Phil makes with the locals he meets in them. At the end of most of the episodes, Phil has dinner with all the new friends he made in the city, and really creates a community of chefs and food-lovers in a town he's only visiting. It's wildly impressive, and fantastically entertaining to watch.
A couple favorites I personally have from the show are:
New York— this tour was really cool for me because it's one of the few that Phil has done in the U.S., and because of that, the culture is so vibrant and blended. It's also very special for Phil because he really shoots the episode as "his New York", accepting the fact that there are a million different ways to see New York, but that these are the restaurants that he treasures and this is what New York means to him. It's very deep, very delicious, and after watching it, you'll be looking for direct flights from O'Hare.
Foods in NYC:
White Gold Butchers— beef pastrami, bacon, egg and cheese sandwiches, and homemade hot dogs with kimchi sauerkraut

Russ & Daughters— egg creams, latkes, and salmon

Ice and Vice— Swedish fish, opium den, Mexican black vanilla with lava sea salt, yuzu coconut milk, and other exotic ice cream flavors

Chef's Club— beef rib and peanut roti
Copenhagen— I was particularly impressed by Copenhagen because it is so advanced as a city that it really blew my mind. The food culture there was exquisitely unique, and I loved the sustainability aspect that was a motif throughout the show. There was a huge focus on vegetables, flowers, and seafood, which I found very interesting and refreshing compared to a beef and cheese laden Buenos Aires (with the exception of one gas station butter burger, but you'll have to watch and see). The city is beautiful as well, and the people Phil met were just generally lovely. It's a truly innovative episode, and I loved every minute of it.
Foods in Copenhagen:
Barr— bacon glazed cod and schnitzel

Amass— fried chicken with vinegar powder

Hija de Sanchez— cod skin chicharron tacos and Danish inspired paletas

Balderdash— avocado boozy milkshake with freeze dried raspberries and salted grasshoppers
So, before you watch another rerun of Grey's Anatomy, dare to leave the Drama section of Netflix and check out Somebody Feed Phil. You won't regret you did.

About the Writer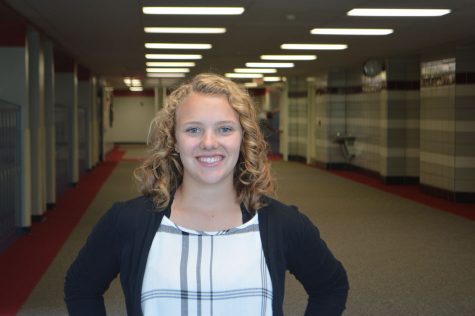 Nataly Panczyk, A&E Editor
Nataly Panczyk is currently a junior at Palatine High School. She is involved in many activities in addition to Cutlass including Pirates and Politics,...