Palatine performs the Diary of Anne Frank
Many students in the drama department of Palatine High School have been working hard on this year's fall play, The Diary of Anne Frank. Every year, the drama department puts on a play for the enjoyment of students, parents, and the general public.
The Diary of Anne Frank depicts the life of a Jewish girl in the holocaust who is forced to hide away. The space she moved to was small, concealed by a bookcase. She stayed with eight others. They all went through ups and downs, and never really get along, but they are forced to live together based on their situation.
"I had to get into the mental set, I had to remember that I am a young girl, that was hard to remember," junior Emmi Antonik, who plays Anne Frank, said. "I had to get into like the mental set of someone who is heart is made of pure gold, and someone who didn't deserve the outcome that she got in life. I had to prepare by forgetting myself and my views, I had to become a new person and truly understand her."
The fall play is an important part of the year for all drama students, and people of all sorts are involved. There are several or those who want to be onstage, and jobs for those who want to stay out of the spotlight, like props, set, or lighting.
The experience backstage was "fun because you get to hang out with friends and get a hands on experience about the making of a show," freshman Grace Ziomek said. "You also get to have many new experiences."
Many of the students were able to get closer to each other through the process of rehearsal. Many of them look back at their favorite part of preparing.
"I really, really really enjoyed connecting with my cast members because we have to be a family and they had to live together and so we had to grow that bond between us and connect on a different level," Antonik said.
Another cast member said that they enjoyed the before show preparations "Our before show rituals," junior Haneen Habahbeh said. "We all get together and do chi to calm ourselves down for the show."
Students outside of the drama department should care about the show, as it covers an important part of history that everyone should be knowledgeable about. The Holocaust was one of humanity's darkest times, no one can afford to forget about. 
"They [people seeing the show] should be expecting very intriguing part of history and more detailed part of it that they never saw," junior John Delaney said.
There will be three performances of the show, on Thursday, Friday, and Saturday, each starting at 7:00 pm. Tickets for students cost $7, and adult tickets cost $10.
About the Writer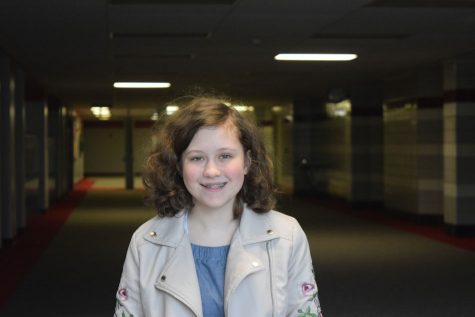 Sophie Rohr, Reporter
Sophie Rohr is a Freshman at Palatine High School. She enjoys acting, improv and choir. Other than theatre, she doesn't do all that much, but hopes to...