Pop culture fans celebrate Wizard World Chicago
Tess O'Brien, Arts and Entertainment Editor
September 7, 2014
Thousands of fans of popular culture, including myself, converged Aug. 21 through 24 at Donald E. Stevens Convention Center in Rosemont to attend the 2014 Wizard World Comic Convention. The convention featured anything from popular TV shows, wrestling, movies, comic books, and more.
Several celebrity guests attended, some of them being Matt Smith and Karen Gillan from "Doctor Who," Norman Reedus from "The Walking Dead," and Sebastian Stan and Anthony Mackie from "Captain America: The Winter Soldier." For an extra price, con-goers could meet their favorite celebrity and get an autograph or photo op with them.
There was also an option to get a VIP pass which provided attendees with four day tickets and the opportunity to get a photo op, autograph, and guaranteed seating at their favorite celebrity's panel. Panels are about an hour long and give con-goers a chance to listen to and ask actors, directors, or professionals questions.
I bought a Doctor Who Dual VIP pass with my brother, freshman Sean O'Brien. We were able to meet both Smith and Gillan from "Doctor Who" and get Smith's autograph. Unfortunately, we didn't get an autograph from Gillan because her flight was delayed- we did get a refund though! When she eventually arrived, we got to take a picture with her and Smith. Even though the photo op only lasted about 30 seconds, I can honestly say that being there was one of the most exciting experiences of my life. Being able to see the people whom I've looked up to for over two years in person was so fulfilling and surreal. I am not ashamed to say that I teared up a little!
Typically, panels are free; however, there was a special panel with Matt Smith and Karen Gillan on the 24th that required the purchase of either a separate ticket or a VIP ticket. Almost all of my family was able to attend the panel, which was held at Rosemont Theater, a five minute walk from the convention center. There, fans asked a plethora of sometimes hilarious, sometimes insightful questions. Also, we had the pleasure of hearing the actors sing the theme song. You can watch it right here.
Normally, panels are free to all con-goers; however, they fill up fast, so it's a good idea to start waiting in line for them at least half an hour in advance. One of the bigger panels was an exclusive screening of the show, "Gotham," with the actors who will play the supervillains Catwoman and The Riddler introducing it. My brother and I attended that panel after waiting in line for about 45 minutes. It was worth it. Set about 15 years prior to Bruce Wayne becoming Batman, the show follows Detective Jim Gordon in his early years working in Gotham's police force. To be able to see the show about a month before the general public was a unique opportunity that I otherwise would have never gotten. My brother even thought that "seeing ["Gotham"] was the best part of the convention."
Some other panels included "One-on-One With Stan Lee," where the creator of Marvel himself answers fans' questions. He even agreed to do the ALS Ice Bucket Challenge while on stage. You can see it for yourself here.
There was also a panel with Anthony Mackie and Sebastian Stan from Captain America: The Winter Soldier. They were hilarious! I attended this panel with juniors Kristin Anderson, Julia Clarke, and Mathilde Mogensen. We all agreed that this panel was spectacular. Mogensen says, "It was really interesting to hear their opinions and they were both really nice and funny." Clarke agrees, saying, "It was one of the most amazing experiences of my life. They were both so funny and you could tell they really cared about their fans. I loved how passionate Mackie was about the representation of minorities and women in the comic book world and elsewhere."
At the convention, only about half of the attendees were dressed in normal clothes-the rest were cosplaying. Cosplay (costume play) is where fans of a piece of popular culture dress up as any character they wish. Many of the fans make these costumes themselves and then get the chance to show them off at conventions like Wizard World. The best part about cosplay is that it's about fun. Although it's usually more exciting to see a fully functional Iron Man cosplay, no one will criticize you if you make a costume out of cardboard and duct tape. As long as you're having fun and being respectful towards others and their cosplays, you'll have a great time. Here are a few pictures of the best cosplays there:
For one day of Wizard World, I went as Elsa and my sister went as Anna from "Frozen." On another day, Anderson, Clarke, Mogensen, and I cosplayed as characters from "Peter Pan." Several people stopped us to ask for pictures. When we were dressed as Elsa and Anna, my sister and I got stopped so much that it took us half an hour just to get to the booth to receive our wristbands for entry!
Most of the convention is centered around the show floor. There, con-goers could walk around to buy merchandise, meet new people, play video games, and much more. On one side of the show floor is the "Artist's Alley," where hundreds of commercial artists set up booths to sell prints to con-goers. In my opinion, this is the heart of the convention, the best part. To be able to walk around alongside thousands of people who love the same stuff as you, whether it be TV shows or comic books, helps you feel like you belong there. I remember walking into my first convention, looking around and thinking, "Wow, these people understand me." In the conventions I have attended since then, that thought has never left me.
If you are into popular culture or interested in going to a convention, there are several that are hosted in Chicago. The next big convention will be Chicago Comic and Entertainment Expo (C2E2) at McCormick Place from April 24-26. You can find out more about it here: http://www.c2e2.com/.
Hope to see you there!
About the Contributor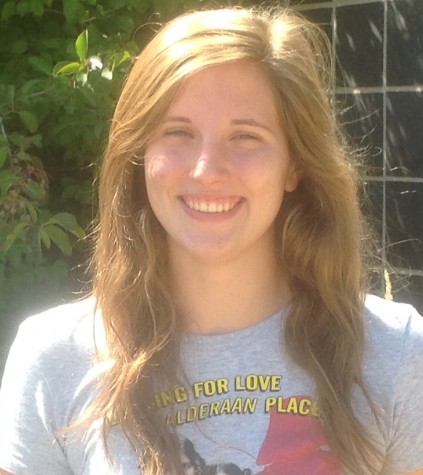 Tess O'Brien, Editor in Chief
Tess O'Brien is a senior at Palatine High School.  She became interested in possibly persuing journalism as a career after joining Cutlass in her sophomore...