Boys Basketball dominates on the court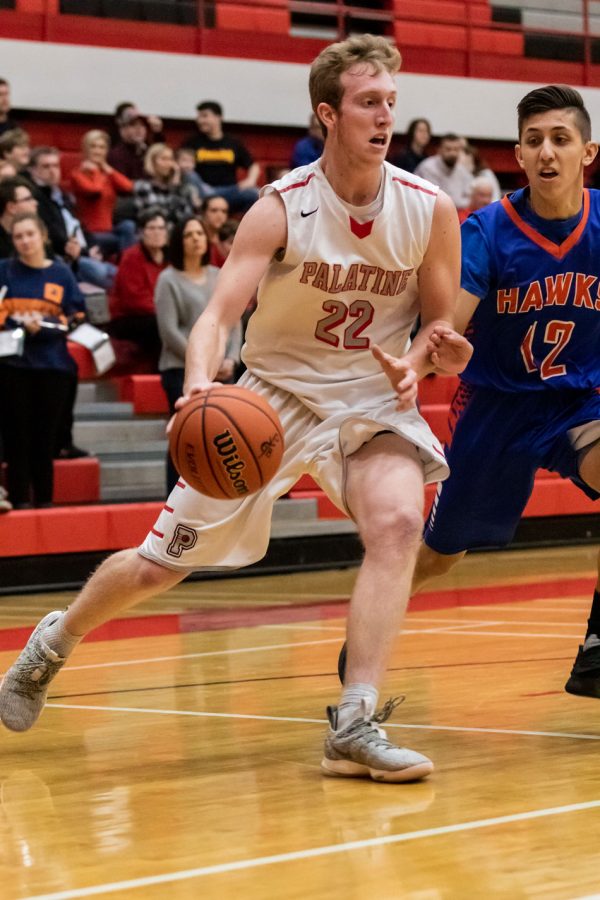 Truman Sanchez, Reporter
February 14, 2019
Palatine High School's varsity boys basketball team dominated the Barrington Broncos 66-39 at home on Friday, Feb 8.
A deep three pointer from Palatine sophomore Julian Campbell got the Pirates off to an amazing start that was then followed up with back to back threes from Palatine senior Matt Elter.
"They were 7-2 last time and didn't play very well," Palatine Varsity Coach Millstone said. "So we know they were going to be ready to play tomorrow night. They're a good team."
Some solid defense by the Pirates right off the bat allowed room for more offensive plays. The threes started falling for Palatine. By the end of the first half the pirates led 31-21 against the Broncos.
"We need to be patient on offense take shots that we want to take," Millstone said. "Defensively, we need to contest shots and grab the first rebound."
The Pirates extended their lead entering the second half with help from senior Ben Storm who hit a couple of big threes. To end the third quarter, Campbell knocked down another three from long range to extend their lead to 20. Palatine's defense continued to make exceptional plays, keeping the Broncos at bay.
"At this time of year it's great to be playing good teams because they are good competition for the state playoffs." Millstone said.
Storm and Campbell finished the game with 15 points each.