Female athletes competing in male sports
US Women's National Team soccer player Carli Lloyd, made headlines for a kicking 55-yard field goal at a Philadelphia Eagle football camp. Scouts have been asking her to try out for teams who need a kicker. Lloyd is resurrecting the debate about whether female athletes can compete in male dominated sports.
Palatine High School student, Alana Roman, said she became a wrestler because she was interested in the sport. When she first started competing, she was somewhat scared and intimidated of wrestling with the boys. However, as her season progressed, the intimidation lessened due to support from coaches and teammates. Now, Roman's coaches support her and her teammates are very accepting of her. 
"It's really just like any sport, regardless of gender," Roman said. "Sure, boys are physically stronger, but it also is a very mental sport, and that is what I really love about it." 
Roman recommends that girls do wrestling. She said that it's not for everyone but you learn so much and become mentally and physically stronger from it. Roman emphasizes that it's fun and you can choose who to wrestle with. She thinks it would make girls on the team more comfortable and enjoyable if many other female athletes joined the wrestling team.
Jerry Dobbs, the athletic director at PHS, said there are no restrictions within District 211 concerning how many sports a gender can do. The only limitation is that students are not allowed to play more than one sport per season. PHS and District 211 follow the Illinois High School Association rules and guidelines. IHSA states that males are not allowed to play any girls sport except for Competitive Cheer and Competitive Dance. Females are able to compete on boys teams under certain circumstances. IHSA host many states playoffs, one being boys bowling–a sport not currently offered for boys competition at PHS.
Dobbs said that it's a good idea to get started and show interest in sports during high school to make the transition into a new sport easier. In the past, PHS has had both female football players and wrestlers. As a result of so much participation and interest, the state is thinking of adding a girls wrestling state series.
"Wherever possible, I believe it's best to have girls play girls and boys play boys," said Dobbs. "Where sports are not offered for the underrepresented gender according to title 9 I'm fine with girls crossing over into a boys sports." 
Title 9 refers to an equal number of sports for each gender to be offered. At the moment, PHS has 15 sports each gender can play. There are a variety of sports athletes can play during each season for their gender.
Another point of view is from former badminton coach, Sharon Stauder. She said that badminton was added to satisfy the need of an equal number of sports offered at PHS (Title 9). 
Her view on boys playing badminton was enthusiastic. "It would be incredible to see [boys] play badminton!" Stauder said.
Despite her enthusiasm, Stauder said she would not let them be on the team. Coach Stauder's reasoning was that boys are physically stronger than girls and would have an advantage towards them.
If a student would like to compete in a sport that is predominantly played by the opposite gender, they would need to fill out a crossover form from their coach or receive one from the athletic office. This is what a female athlete would have to do to signup to participate in mainly male sports like football or wrestling. Boys would as well do this if they would like to play on a female, predominant sport. Then, the student and their parent(s) would meet with the coach to address any concerns to petition for participation.
The Illinois Sex Equity paperwork for Girls on Boys teams can only be completed on IWAS. Call ISBE's Cheryl Bradley at 217-782-2948 for further information.
About the Writer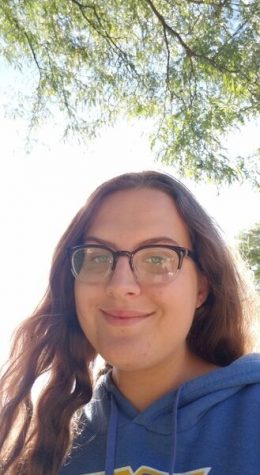 Monika Jurevicius, Sports Editor
Monika Jurevicius is a sophomore at Palatine high school and is involved in both Cutlass and Face. Jurevicius believes that good quality means putting...